In this week's roundup from the Association for Unmanned Vehicle Systems International(AUVSI), which highlights some of the latest news and headlines in unmanned vehicles and robotics,learn about a trans-Atlantic flight completed by General Atomics Aeronautical Systems Inc.'s MQ-9B SkyGuardian Remotely Piloted Aircraft (RPA), a landmark unmanned aerial system (UAS) mapping mission in Canada, and the anniversary of the first FAA-approved drone delivery in the United States.
GA-ASI completes first trans-Atlantic flight of a MALE RPA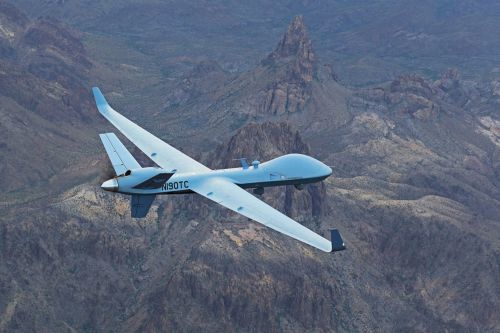 General Atomics Aeronautical Systems Inc. (GA-ASI) has announced that its MQ-9B SkyGuardian Remotely Piloted Aircraft (RPA) has become the first Medium-altitude, Long-endurance (MALE) RPA to successfully complete a trans-Atlantic flight.
The MQ-9B SkyGuardian took off from Grand Forks, North Dakota on July 10, and flew 3,760 nautical miles in 24 hours and two minutes. The MALE RPA landed at the Royal Air Force (RAF) Fairford in Gloucestershire, UK on July 11.
"This historic event was a demonstration of the endurance and civil airspace capability of the MQ-9B SkyGuardian, and it is fitting to do this as part of the centennial celebration of the RAF," says Linden Blue, CEO, GA-ASI.
"The successful flight of the MQ-9B is the culmination of the hard work and innovation of our dedicated employees, and the strong relationships that we enjoy with the RAF, the UK Civil Aviation Authority (CAA), the Royal International Air Tattoo (RIAT) and our UK industry partners such as Cobham."
In support of the NATO and Coalition operations, the RAF has operated GA-ASI's MQ-9 Reaper RPA over the last ten years. With the RAF celebrating its 100-year anniversary (RAF100), GA-ASI took the opportunity to fly the newest MQ-9 version, MQ-9B, to RIAT. The RAF configuration of MQ-9B will be called PROTECTOR RG Mk1.
GA-ASI named its baseline MQ-9B aircraft SkyGuardian, and the maritime surveillance variant SeaGuardian. MQ-9B, which is the next generation of GA-ASI's multi-mission Predator B fleet, is a "type-certifiable" (STANAG 4671-compliant) version of the MQ-9 Predator B product line.
The aircraft's development is the result of a five-year, company-funded effort to deliver a RPA that can meet the "stringent" airworthiness type-certification requirements of different military and civil authorities, including the UK Military Airworthiness Authority (MAA) and the U.S. FAA.
Type-certification, along with an extensively tested collision avoidance system, will allow unrestricted operations in all classes of civil airspace.
Global UAV Technologies and others conduct landmark UAS mapping mission in Canada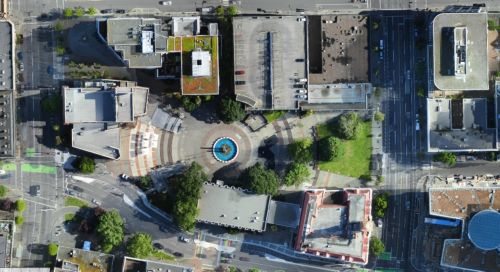 On June 14, Global UAV Technologies Ltd., InDro Robotics Inc., and High Eye Aerial Imaging Inc. conducted the first UAS mapping mission over a major Canadian metropolitan city, flying over the downtown core of Victoria, British Columbia, Canada.
The mission, which was a first of its kind operation, was completed for the City of Victoria's Emergency Management Division and conducted alongside members of Transport Canada.
"This first of its kind operation signals a significant achievement for High Eye, InDro and Global UAV. The ability to safely operate a UAV over a populated downtown core without interrupting people's daily commute is a milestone event and will aid in progressing UAV regulations in Canada," says Jeremy McCalla, Global UAV Technologies' Business Development and Operations Manager.
"The successful collaboration between Global UAV, InDro Robotics, Transport Canada and the City of Victoria on the project provides a foundation for future collaborations on similar missions."
Approximately 1,000 high resolution images were collected using a Sensefly eBee plus RTK/PPK UAS during two flights that covered an area of 1.5 square kilometers. A professional flight crew that included personnel from all three entities completed the survey in just one day.
"Transport Canada's willingness to work with the team to ensure this mission, vital to emergency planning and preparedness, could be flown in an efficient and safe manner has provided not only a wealth of data for emergency response but also a new depth of knowledge for future operations in such environments," says Phillip Reece, CEO of InDro Robotics.
Flirtey celebrates three-year anniversary of its 'Kitty Hawk' moment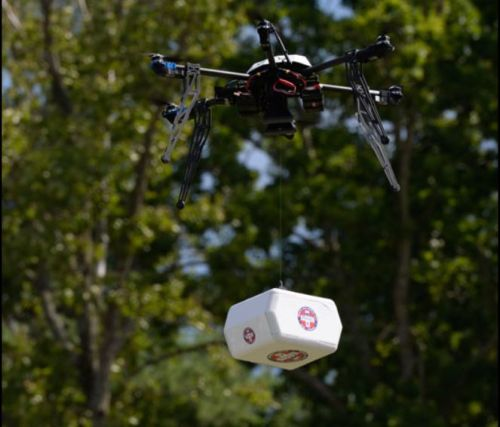 On this day three years ago, Flirtey successfully completed the first FAA-approveddrone delivery in the United States.
In collaboration with NASA's Langley Research Center in Hampton, Virginia, Flirtey delivered pharmaceuticals and other medical supplies to an outdoor free clinic in Wise County, Virginia.
During the flights, a NASA Langley fixed-wing Cirrus SR22 aircraft picked up 10 pounds of pharmaceuticals and supplies from an airport in Tazewell County in southwest Virginia. With a safety pilot on board, the plane delivered the medicine to the Lonesome Pine Airport in Wise County.
Once the Flirtey crew received the supplies, the crew separated them into 24 smaller packages so they could be delivered via UAS during several flights over two hours. The aircraft flew to its destination autonomously—although there was a Flirtey pilot in the loop if needed—and lowered the pharmaceuticals to the ground by tether. The packages were received by healthcare professionals on the ground, who then distributed the medications to the appropriate patients.
"Today's successful delivery was a win for Virginia's test site, and a real 'Kitty Hawk' moment for the unmanned systems industry," Virginia Sen. Mark R. Warner said at the time. "These flights highlight the humanitarian possibilities of this technology and I'm looking forward to additional successes that will position Virginia as a leader in this burgeoning field."
At the time, people didn't believe that this type of flight was possible, says Flirtey's CEO Matthew Sweeny. That doubt, though, did not impact Sweeny's confidence in his team's ability to pull off such a monumental operation.
"We built our technology from the ground up, and put years of work into making it safe and robust," Sweeny says during an interview with AUVSI the week before the three-year anniversary. "We were confident that it'd be successful."
Reflecting on one of the more significant recent moments in the UAS industry, Sweeny, who founded Flirtey in 2013, believes the importance of that first delivery cannot be understated.
"In hindsight, I think that delivery was the decisive moment that helped to create this industry," Sweeny says. "At the time people didn't think it was possible, but once it was demonstrated, it delivered a huge amount of capital to the drone industry."
The successful drone delivery on July 17, 2015 was dubbed the UAS industry's "Kitty Hawk" moment, in reference to the Wright Brothers' first controlled, sustained flight of a powered, heavier-than-air aircraft on Dec. 17, 1903, four miles south of Kitty Hawk, North Carolina.
Flirtey's Kitty Hawk moment was validated in April 2016 when the Flirtey drone used to make that first delivery in the U.S. was accepted into the Smithsonian's National Air and Space Museum, alongside the Space Shuttle Discovery and the Wright Flyer.
"Looking back, people will look at that flight the way that people look at the Wright Brothers (first) flight in how it pioneered the industry," Sweeny says.
Since its seminal flight in 2015, Flirtey has gone on to work with several entities on a variety of unique projects. In addition to NASA, Flirtey has worked with entities such as Johns Hopkins University of Medicine, 7-Eleven and Domino's to complete a number of first time flights.
The summer of 2016 was especially eventful, and busy, for Flirtey, as in June 2016, the company completed the first fully autonomous, FAA-approved ship-to-shore drone delivery in collaboration with Johns Hopkins. In July, Flirtey conducted the first fully autonomous, FAA-approved drone delivery from a store to a home in partnership with 7-Eleven in the United States. And the following month, Flirtey launched the world's first commercial pizza-by-drone delivery model in partnership with Domino's in New Zealand.
Sweeny says when picking entities to partner with, the company wants partners that its technology will have the biggest impact on.
"Flirtey has looked for partnerships where our technology solves real problems, real grassroot problems, and adds value to partners," Sweeny says.
In working with various partners, Flirtey has gotten the opportunity to conduct UAS flights in three different countries — the United States, New Zealand, and Sweeny's birth country of Australia. Sweeny says it's been interesting to see countries across the world compete against each other to deliver these capabilities in a timely manner.
"Countries all around the world want to attract this industry to save lives and create jobs," Sweeny notes.
With a track record of successful deliveries, Flirtey has developed a reputation that has garnered the company plenty of cache within the UAS industry. As a result, the company is partnering with four of the participants in the FAA's UAS Integration Pilot Program. Sweeny is optimistic that this program will go a long way in making drone deliveries common place in the U.S.
"The key step just happened; the IPP program is the key step," Sweeny says. "It's so important because for the first time in America, there's a program that fast tracks drone delivery approvals."
One of the participants in the UAS IPP that Flirtey is working with — the city of Reno, Nevada — will focus on fast tracking Flirtey's automated external defibrillator (AED) drone delivery service.
"That application of technology will have a massive impact on society," Sweeny says.
Ultimately for Sweeny, everything happening in the UAS industry today, including the UAS IPP, is linked to the events from three years ago today.
"[The Kitty Hawk moment] was the precedent setting moment that pioneered this industry," Sweeny says, "and [that moment is] now paving the way for this UAS IPP."
View more information on the AUVSI.
Share your vision-related news by contacting James Carroll, Senior Web Editor, Vision Systems Design

To receive news like this in your inbox, click here.
Join our LinkedIn group | Like us on Facebook | Follow us on Twitter