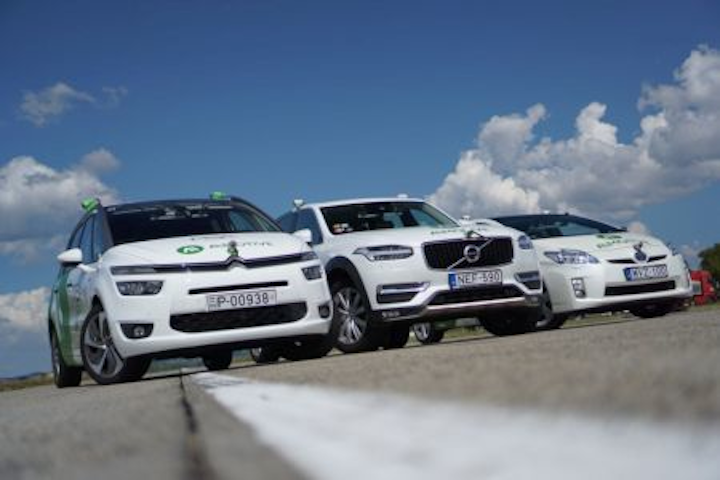 AImotive, a full-stack autonomous vehicletechnology company, has received $38 million USD in a Series C funding round.
The funding round was led by B Capital Group and Prime Ventures, with participation from Cisco Investments, Samsung Catalyst Fund, and Series A and B investors Robert Bosch Venture Capital, Inventure, Draper Associates and Day One Capital. It will be used to continue the development of its propriety autonomous driving technology, which relies primarily on cameras on artificial intelligence-based vision processing.
AImotive's technology, according to the company, is inherently scalable due to it's "low-cost modularity and flexibility, while also open to the fusion of non-vision based sensors for additional safety in poor visibility conditions." With minimal additional costs, AImotive's software can reportedly be ported into various car models, driving in diverse locations around the world. The solution is designed for automotive OEMs, mobility service providers, and other mobility players, according to the company, which is working extensively with established automotive players including Groupe PSA, SAIC, and Volvo.
"As a fund with many years of investment experience in deep technologies, we are excited to be part of shaping the next chapter in automotive," said Monish Suri, partner at Prime Ventures. "What the AImotive team has been able to achieve to date, leveraging simulation technology, is very impressive, and we are looking forward to helping the company grow further and bring their technology into production."
Deep details on the product, aiDrive, are not available, but AImotive describes it as a full-stack software suite, with algorithms relying on cameras as primary sensors for perception, localization, decision making, trajectory planning, and vehicle control. aiDrive is built from four hierarchic software engines, each responsible for a key component in the self-driving technology, combined into one hardware-agnostic suite. The four engines are described by the company as follows:
Recognition engine: Identifies objects and interprets the environment around the vehicle in real time, utilizing a "camera-first approach," fusing low- and high-level information from radar and ultrasonic sensors. Recognition tasks are performed using machine learning techniques and deep neural networks.
Location engine: Integrates AImotive's in-house navigation engine to enhance positioning precision, utilizing vision-based localization and mapping algorithms optimized for parallel computing hardware. The component relies on sensor fusion data to study its environment and uses conventional and AI-based methods for feature extraction, ego-motion calculation and localization, assuring compatibility with all major HD landmark databases.
Motion engine: Handles the complete self-driving decision chain, relying on the abstract 3D environment created by the Recognition and Location engines. This engine explores the surroundings of the vehicle with object tracking and state prediction techniques, integrating probability-based behavior elements. It also uses reinforcement learning to choose the next maneuver, and translates high-level routing, detection, and fused sensor information to the local trajectory, taking the physical constraints of the vehicle into account.
Control engine: Enables vehicle control through low-level actuator commands, integrating AImotive's in-house developed drive-by-wire solution with the corresponding APIs. This engine translates and communicates the calculated dynamic trajectory to the vehicle. This method provides a universal, safety-compliant platform, which satisfies local public road testing requirements.
AImotive has received autonomous testing licenses on public roads for multiple locations, and started testing its car fleet in Hungary, France, and California in summer 2017. The company plans to further extend testing to automotive hubs in Japan, China, and other US states this year.
"The auto industry is moving rapidly toward autonomy, and AImotive's vision-first strategy for solving perception and control is far more scalable than LiDAR-based approaches as an industry standard," said Gavin Teo, partner at B Capital Group. "We're excited to support Laszlo and the AImotive team in building a lasting brand in the AV space."
View more information on AImotive.
Share your vision-related news by contacting James Carroll, Senior Web Editor, Vision Systems Design

To receive news like this in your inbox, click here.
Join our LinkedIn group | Like us on Facebook | Follow us on Twitter