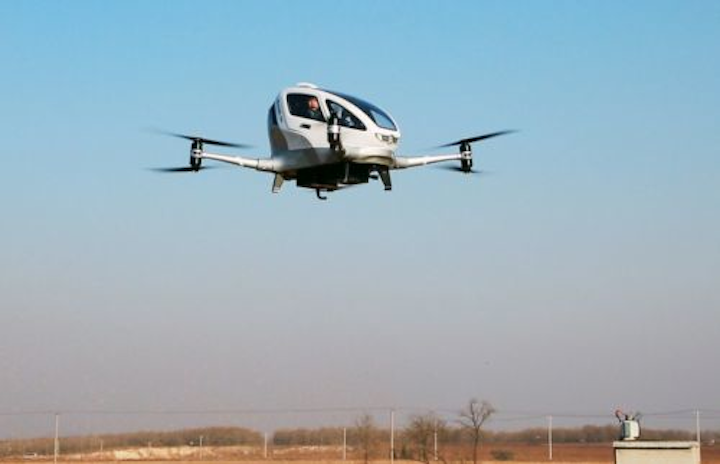 Chinese company EHANGhas released footage of its EHang 184 vision-guidedautonomousflyingtaxi carrying passengers into flight for testing.
The EHANG 184 passenger drone was unveiled at the Las Vegas Convention Center during CES 2016. The drone stands just under 5 ft. tall and is made of reinforced composite material with carbon fiber and epoxy and weighs approximately 573 lbs. EHANG notes that since the company was founded in 2014, more than 150 technical engineers have conducted thousands of test flights, including a vertical climbing test reaching up to nearly 1,000 ft (300 m), a loaded test flight carrying approximately 507 lbs. (230 kg), a routed test flight covering 9.3 mi. (5 km), and a high-speed cruising test that reached 80 mph (130 km/h).
The drone can be fully charged in one hour and fly for 25 minutes at sea level, and features a downward facing camera, air conditioning, and four doubled propellers spinning parallel to the ground. When passengers enter, they set a flight plan and from there, need to give only two commands, which are "take off," and "land," each controlled by a click on a Microsoft Surface tablet.
EHANG notes that its 184 is the first passenger drone capable of carrying a single person at 80 mph and in force 7 typhoon conditions, and that the flight tests are just the latest in a series of tests to ensure that the autonomous air vehicle (AAV) will be safe and ready for public use in the near future. Among the 40 some-odd passenger who helped in this testing phase were Wang Dong, deputy mayor of Guangzhou, and Huazhi Hu, EHANG Founder and CEO.
"Performing manned test flights enables us to demonstrate the safety and stability of our vehicles," Hu said. "What we're doing isn't an extreme sport, so the safety of each passenger always comes first. Now that we've successfully tested the EHANG 184, I'm really excited to see what the future holds for us in terms of air mobility."
EHANG is still working on improving the 184 AAV, including an emphasis on passenger experience and adding on an optional manual control, giving passengers with piloting experience the choice to manually operate the vehicle. Additionally, according to a press release, the company has already developed and tested a two-set AAV with a payload of up to 617 lbs. (280 kg).
In terms of when the AAV could be available for public use, it is clear that EHANG is still in the testing phase.
"This is a step-by-step process," commented Hu, "and at EHANG, we have our own road map. When it comes to the development and application of any transformative technology, first the technological innovation makes an impact, then the relevant policies are created and developed. This goes on to push further development of the industry."

However, EHANG already has an agreement with the state of Nevada and Dubai's transport authority to carry out testing, according to New Atlas.

View the press release.
View more information on EHANG.
Share your vision-related news by contacting James Carroll, Senior Web Editor, Vision Systems Design

To receive news like this in your inbox, click here.
Join our LinkedIn group | Like us on Facebook | Follow us on Twitter