In this week's roundup from the Association for Unmanned Vehicle Systems International(AUVSI), which highlights some of the latest news and headlines in unmanned vehicles and robotics,learn about Skydio's R1, which the company is calling the world's first fully-autonomous flying camera. Also, learn about a UAS-based solar power plant inspection service and a deep learning engine built specifically for drone-based applications.
Skydio introduces R1, the 'world's first fully autonomous flying camera'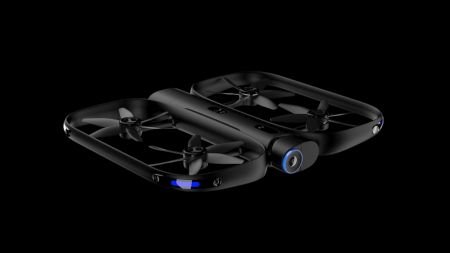 A California-based company called Skydio has announced the availability of its first product, R1, which is a fully autonomous flying camera. Skydio says that with the introduction of R1, it is "taking a step toward the future of autonomous drones and enabling a new type of visual storytelling."
According to Skydio, a team of world-class researchers and engineers built R1 from the ground up for autonomous flight. The fully autonomous flying camera is powered by the Skydio Autonomy Engine, which allows it to "see and understand" the world around it, so that it can fly safely at high speeds while avoiding obstacles, even in dense and challenging environments.
R1 can see people and anticipate how they will move, which allows it to make intelligent decisions about how to get the "smoothest, most cinematic footage" in real-time.
"The promise of the self-flying camera has captured people's imaginations, but today's drones still need to be flown manually for them to be useful," says Adam Bry, CEO and co-founder of Skydio.
"We've spent the last four years solving the hard problems in robotics and AI necessary to make fully autonomous flight possible. We're incredibly excited about the creative possibilities with R1, and we also believe that this technology will enable many of the most valuable drone applications for consumers and businesses over the coming years."
Skydio says that R1 is built for early-adopters including athletes, adventurers, and creatives, adding that it "elevates users to the center of their stories."
​In order to capture 4K video with R1, all a user needs is Skydio's mobile app. Once R1 takes off, a user just has to set it to follow them. Skydio says that "if you can operate the camera app on your phone, you can control R1."
R1 is currently available in the U.S. and Canada for $2499 USD.
V-cube Robotics announces solar power plant inspection package service utilizing UAS
V-cube Robotics, Inc., which is headquartered in Shibuya, Tokyo, has announced that it will begin offering a solar power plant inspection package service that uses UAS called 'SOLAR CHECK.'
The UAS, which are equipped with infrared thermography cameras, autonomously fly around a facility, imaging the solar panels. These images are then analyzed using artificial intelligence, which, according to VStar, dramatically improves the efficiency of inspection, making it possible to discover discrepancies and report on the results of an inspection in a short amount of time.
To match the positions of the plant's solar panels, the SOLAR CHECK UAS' flight path is set ahead of time. It then autonomously flies along that path, and uses its on-board thermography camera to image the panels from the air.
The saved panel images are uploaded into the cloud, and using deep learning, they are automatically analyzed to find discrepancies such as hotspots.
A report on the results of the inspection is created by the service, and it shows the abnormal panels and where the discrepancy occurred.
Some of the initial preparations for the service include configuring the system as required for operation, test imaging and training, which is performed by V-cube Robotics after a customer applies for the service. V-cube says that from the second inspection on, the customer can perform the inspections themselves with an easy operation.
SOLAR CHECK uses "advanced image analysis technology" that employs deep learning and other forms of AI offered by a company called Datasection Inc., to provide extremely accurate analyses. One of the strengths of Datasection, according to V-cube, is its technology that processes large volumes of images instantly utilizing MLFlow, which is a platform that Datasection developed independently.
The company used this technology in the development of an algorithm tailored to detect discrepancies in solar panels specifically for the SOLAR CHECK service. It then developed this into a framework that "improves detection accuracy using an AI algorithm that gets smarter the more it runs," and that includes several deep networks, in addition to existing image processing.
Loveland Innovations launches deep learning engine built specifically for UAS-based inspections
A company called Loveland Innovations has announced the launch of the beta version of IMGING Detect, a "deep learning engine built specifically for drone-based inspections."
Deep learning is an "advanced approach to artificial intelligence (A.I.) that allows IMGING to "learn" as it gathers more data," Loveland explains, which makes IMGING "more sophisticated and accurate each time it's used."
Loveland says that this capability has "vast implications" for a variety of applications such as, but not limited to, damage detection and object and materials detection. Loveland adds that IMGING's proprietary damage detection algorithms are the "most advanced currently available" to the UAS-based roof, building and property inspection space.
"We're excited about damage detection, but we're more excited about deep learning. The framework we've built completely steamrolls anything else currently available," says Jim Loveland, CEO and Founder of Loveland Innovations.
"Our team has spent the last two years designing and building the most powerful deep learning system in the property inspection space. This release isn't just about faster inspections and more accurate estimates, it's about re-thinking the industry's entire approach to inspections and estimating. Deep learning is dead center in that vision."
According to Loveland, IMGING users will be able to inspect a roof or property with an automated UAS, automatically find damage and materials, and create detailed estimates using one tool, all without ever stepping foot on a roof, thanks to the new deep learning framework.
Loveland says that currently, IMGING Detect makes estimating much easier by automatically highlighting areas of damage on inspection images. The initial build can recognize a variety of things, including wind-blown shingles and hail hits, including fringe hail, on composition rooftops.
​For Leif Larson, CTO of Loveland Innovations, this technology is a huge milestone in itself, but he notes that "it's just the first of many uses Loveland Innovations has planned for deep learning in IMGING."
"The deep learning framework used in IMGING Detect is foundational technology we've built to provide a visionary toolset to anyone who does inspections," Larson says.
"We'll give IMGING the ability to find multiple kinds of damage, to analyze property risks, determine materials, detect objects, and make the process of building and property inspections much more streamlined. There's really no limit to what this technology can do, and we'll continue rolling out new features fast."
View more information on the AUVSI.
Share your vision-related news by contacting James Carroll, Senior Web Editor, Vision Systems Design

To receive news like this in your inbox, click here.
Join our LinkedIn group | Like us on Facebook | Follow us on Twitter