Business Vision
IPOT preview; Some exhibiting companies and their products; Alliances accelerate; Technology trends
Feb 1st, 2000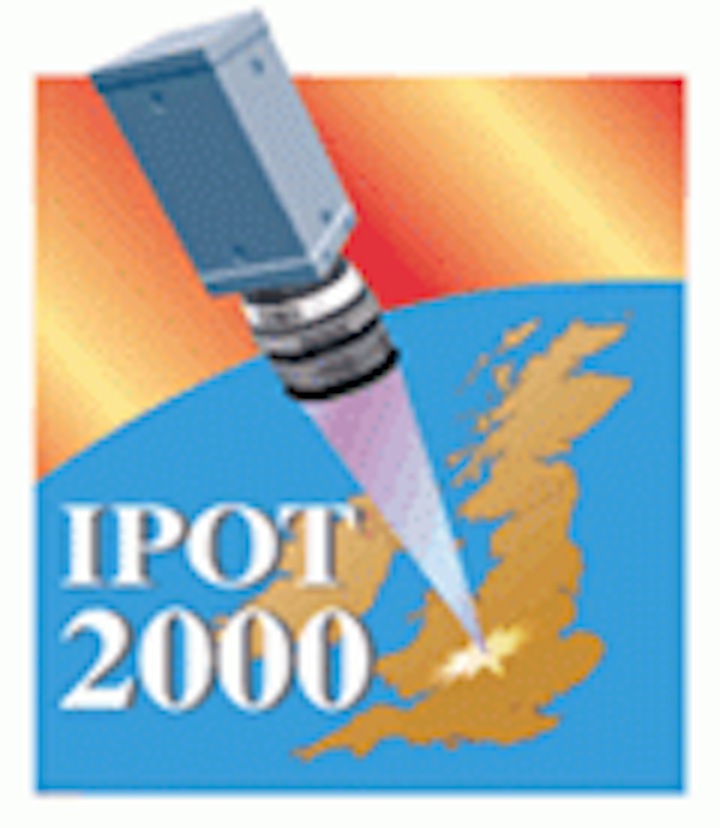 IPOT preview
The UK's leading Vision Event—IPOT (Image Processing and Optical Technology) 2000—takes place at the NEC, Birmingham, England, Feb. 16-17. It is now established as the main event in Britain for those involved in image-processing and optics technologies. And, for the first time, the event is emphasizing machine-vision products and technologies.
In conjunction with IPOT, the UK Industrial Vision Association (UKIVA) is presenting two days of conferences. These conferences are the latest initiative from UKIVA in promoting the use of vision technology by the manufacturing industry in the United Kingdom. Day one covers basic principles, together with some practical hints and tips and some application examples. The second day is structured for those who already have some knowledge of the technologies used in imaging and machine vision. Topics to be covered include the capture and use of 3-D image information and multimodel methods for image interpretation and dimensional gauging. Examples taken from biology, ultrasound, and food-production applications will be used to illustrate these seminars.
Booth demonstrations will also highlight the Matrox Imaging Library and Inspector prototyping tools.
On display at the Lambda Photometrics booth will be fiberoptic illumination systems from Schott-Fostec, fixed focus and zoom-lens systems from Navitar, and telecentric C-mount lenses from Carl Zeiss. The range of digital and smart linescan camera systems from Lord Ingenierie, as well as CMOS cameras for 3-D profiling from IVP, will also be shown.
Pinnacle Vision is presenting Dalsa and Silicon Mountain Design cameras and Coreco's Mamba image-processing accelerator. Based on Intel's Pentium II, this accelerator leverages the clock speeds and MMX acceleration of Intel's x86 architecture to increase processing performance and optimize software development. Its two CAB buses permit fast image data to be captured and transferred to Mamba's on-board memory without affecting the host PCI bus.
New CCD sensor technology developed by Hamamatsu is available in two types of camera, which will be displayed. The C7 190-10 is a dual-mode, slow-scan, cooled digital camera suitable for low-light applications. The C7 190-20 is a video rate camera for fluorescence imaging or low-light-level industrial applications where an intensified camera is required.
Some exhibiting companies and their products
Multipix Imaging Ltd. is launching the PentiCam—a PC, frame grabber, and camera package from Leutron Vision—and the Multipix RTD system-used in the real-time capture of uncompressed video to hard disk.
Kane Computing is showing the Euresys Multi family of frame grabbers and frame processors. The Multi products offer a modular architecture, choice of acquisition modules, and optional, embedded DSP processing. The compatibility of the EureCard Multi will be demonstrated with digital cameras such as the Dalsa Spyder and Trillium; Kodak's ES4.0, ES310, and Megaplus, as well as cameras from Basler, Hitachi, Ikegami, Lord-Ingenierie, and SVS-Vistech. The latest frame grabbers based on the Philips TriMedia processor from Alacron will also be shown.
Matrox Electronic Imaging Ltd. will be exhibiting its range of frame grabbers and image-processing software tools and the Matrox 4Sight "imaging appliance."
Cambridge Control, a MathWorks company, will be exhibiting the latest MathWorks' image-processing software tools. These include the Image Processing, Signal Processing, and Wavelet Toolboxes, as well as the latest release of MatLab.
Alrad is showing a range of products ranging from CMOS cameras to new lighting systems. On the software side, Halcon imaging tools feature an H-develop program for rapid prototyping. Hardware representations include the Titan 16-channel input frame grabber and the Raven input board, which can handle analog signals such as CCIR, RS170, PAL, NTSC, Y/C, and RGB inputs.
GRAHAM SPRIGG
CONTRIBUTING EDITOR
GRAHAM.SPRIGG@SPRIGG.DEMON.CO.UK
Alliances accelerate
STMicroelectronics Inc. (Geneva, Switzerland; www.st.com), a supplier of semiconductor integrated circuits, and Hewlett-Packard Co. (Palo Alto, CA; www.hp.com), a provider of computer and imaging platforms, have jointly agreed to develop a processor platform based on very-long-instruction-word technology. The platform will allow the rapid development of high-performance processor cores that can be scaled and customized to individual system-on-chip applications. Design teams in the United States are located in Cambridge, MA, and San Diego and San Jose, CA; in Europe at Bristol, England; Milan, Italy; and Grenoble, France.
Foresight Imaging (Chelmsford, MA; www.foresightimaging.com) and IO Industries (London, ON, Canada; www.ioindustries.com) have announced that the Video Savant line of imaging software products from IO Industries will support Foresight's I-series of frame grabbers.
Fluke Corp. (Everett, WA; www.fluke. com), a supplier of electronic test tools, has acquired the Precision Measurement Division of Wavetek Wandel Goltermann (Norwich, England).
PEP Modular Computers (Pittsburgh, PA; www.PEP.com), a supplier of 3U and 6U CompactPCI and VME board and system products, has acquired 50% of all shares in ROTEC Industrial Automation (Rastatt, Germany), a system product supplier for the control and automation markets. ROTEC will continue to operate as a separate company.
Computron Display Systems Inc. (Mt. Prospect, IL), a supplier of video displays for medical, military, and industrial applications, has bought KG Rear Vision, formerly a division of Kanematsu USA Inc. (Arlington Heights, IL), a supplier of on-board video and indirect vision technology.
Technology trends
InnovaCom Inc. (Santa Clara, CA; www.transpeg.com) has been awarded a US patent, Dual Encoding/Compression Method and System for Picture Quality/Data Density Enhancement, related to technological advances in MPEG video compression.
Trac D. Tran, an assistant professor in the department of electrical and computer Engineering at Johns Hopkins University (Baltimore, MD; www.ece.jhu.edu/), has invented a new digital transformation method—called BinDCT—that uses only binary shift and addition operations to speed the transmission of digital multimedia by at least three times over available methods and at less power. A US patent is pending.
GEORGE KOTELLY
EXECUTIVE EDITOR
GEORGEK@PENNWELL.COM