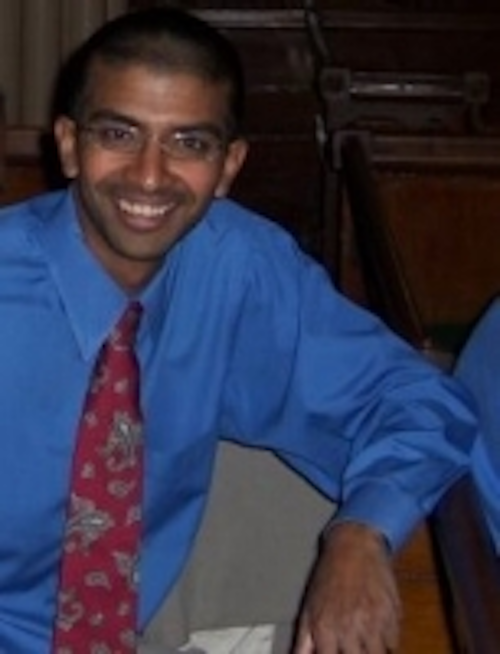 At The Vision Show 2016, I met Dipesh Mukerji, VP Marketing & Strategyfor KINGSTAR, a company that develops a PC-based solution to build diverse motion control and machine vision applications for real-world situations.
Mr. Mukerji told me a bit about his company and their products at the show, and afterwards, I followed up with some more in depth questions. The following is an interview in which he answers these questions in great detail.
Name: Dipesh Mukerji
Title: VP Marketing & Strategy
Company: KINGSTAR
Headquarters: Waltham, MA
Year founded: 1980
Number of employees: 50
At The Vision Show, you said that KINGSTAR is a spin-off from IntervalZero. Can you explain a bit about both companies and how KINGSTAR became its own separate entity?
IntervalZero's experience and expertise in embedded technology extends back to 1980 with the founding of its predecessor company, VenturCom. VenturCom developed the technology that led to Microsoft's first embedded operating system. In 2005, the company was renamed Ardence, Inc., and two years later enterprise software leader Citrix Systems Inc. purchased Ardence, primarily for Ardence's virtualization technology software. In 2008, Citrix supported a buyout of the embedded technology business by a team of former VenturCom-Ardence-Citrix executives, who formed IntervalZero Inc. Citrix has since been bought out by the CEO of IntervalZero and is now completely privately held.
IntervalZero's RTX/RTX64 RTOS platform streamlines and simplifies the development of complex systems. By leveraging x86 multi-core technology and symmetric multiprocessing (SMP) functionality, and by extending Microsoft Windows with the RTX real-time extension, the RTX RTOS platform reduces costs, boosts quality and performance, and significantly reduces reliance on proprietary hardware such as DSPs and FPGAs.
KINGSTAR was born out of this RTOS foundation. We simply recognized that industrial motion control and machine vision automation had grown archaic with the limitations of hardware, and that software needed to be the alternative solution - but only if software could provide a comparable alternative that could match or exceed hardware's performance. The only way software could achieve that was with a real-time operating system. Hence, IntervalZero's RTX64 became the foundational layer for KINGSTAR's platform products.
KINGSTAR remains closely tied to IntervalZero through technology, people, and culture. It is still an IntervalZero company, and like IntervalZero, is relentlessly focused on customers that share our pursuit of excellence. We strongly believe that continuous investment in motion control and machine vision software technology is essential for long-term success.
Like IntervalZero, KINGSTAR is based in a strong customer-centric philosophy. Its roots in IntervalZero's three decades of embedded software innovation, and the proven value of the KINGSTAR real-time motion control and machine vision software, have allowed KINGSTAR to build a global customer base of market-leading OEMs and end users in industrial automation, robotics, semiconductors, manufacturing, textiles, packaging, medical systems, and other industries.
What is KINGSTAR setting out to achieve as its own company?
The mission of KINGSTAR is to produce an equal – or frankly, better - alternative solution to hardware for industrial motion control and machine vision applications. We believe that KINGSTAR can provide companies in the robotics, semiconductors, manufacturing, textiles, packaging, medical devices industries, to name a few, with a cost effective, real-time, PC-based solution that will empower them to build diverse motion control and machine vision applications for real-world situations. These include laser cutting, surface mounters, die bonders, chip probers, CNC milling, etching, conveyors, LED and LCD inspection, and more, all with superior precision performance. KINGSTAR, we believe, will ultimately replace hardware as the defacto solution for industrial machine automation.
Can you explain your product line and how it was developed?
In a nutshell, the KINGSTAR software platform replaces expensive hardware solutions for industrial automation and machine control. As an open and standards-based integrated platform, it enables motion control and machine vision engineers to design, develop, and integrate motion control and machine vision applications with either KINGSTAR's soft motion library and software PLC, or one of your own choosing.
This flexibility is a real differentiator of the platform approach. Because KINGSTAR is built on the foundation of EtherCAT and a real-time 64-bit Windows operating system, it gives engineers premium precision and performance at half the cost of hardware.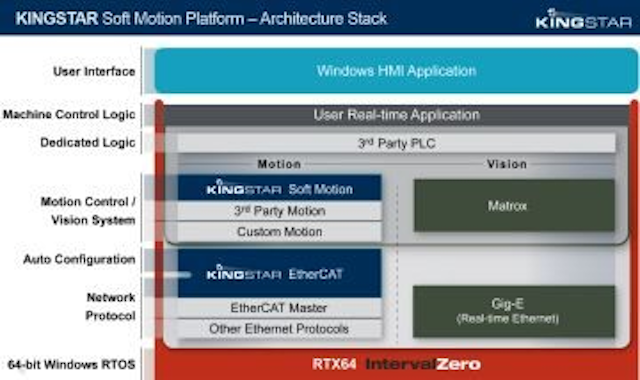 The platform gives you control, autonomy, and flexibility. Let's say you want to leverage the increasingly popular EtherCAT fieldbus as your industry standard. You have the freedom and flexibility to choose either KINGSTAR's CANopen over EtherCAT, or you can choose another EtherCAT master of your choice like Acontis, Koenig or ESD. Let's say you want to leverage your own customized soft motion control algorithms and APIs. No problem; you can integrate your own customized solution into EtherCAT or leverage KINGSTAR's own set of Soft Motion Control algorithms.
It doesn't stop there. What if you wanted to add machine vision-directed motion control? Well, then options like KINGSTAR or Matrox's Imaging Library are completely available to you. Finally, if you want to complete the full set by leveraging your favorite PLC for HMI, then go right ahead and choose PLCs like ISaGRAF or PHOENIX CONTACT as your application management system. In other words, an open platform empowers customers to have their cake and eat it too: they get the benefit of pre-integration (they do not have to integrate) and all their components are state of the art.
Page 1 | Page 2