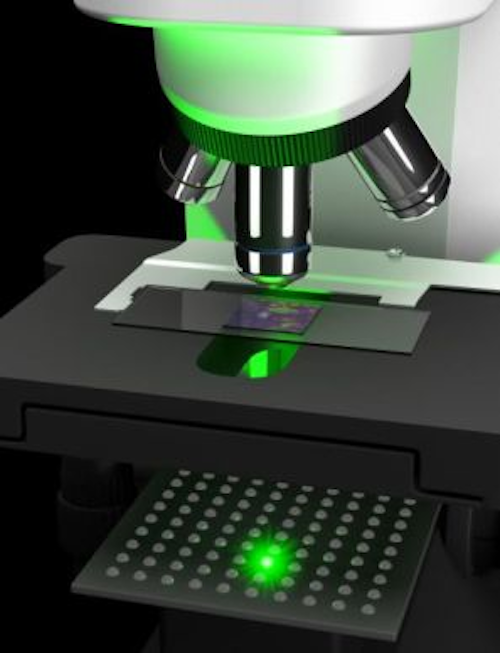 A team of engineers from the California Institute of Technology have developed an imaging system using software and a $200 LED array that will enable conventional microscopes to take much higher-resolution images.
Without actually changing the physical microscope, researchers found a way to improve the resolution of a conventional 2X objective lens to the level of a 20X objective lens and produce images that contain 100 times more information than those produced by conventional microscope platforms. Prior to this development, physical limitations have forced researchers to choose between high resolution and a small field of view on the one hand, or low resolution and a high field of view on the other, according to the Caltech press release.
This project reportedly provides the best of both worlds. Here's how it works:
In place of regular light beneath the stage, the new system implements an array of 150 LEDs beneath the stage. Using each bulb in the area one at a time, the system acquires 150 low-resolution images of a sample. In each image, light coming from known different directions illuminates the sample and a computational approach called Fourier ptychographic microscopy (FPM) is used to stitch together the low-resolution images into a high-resolution image of the entire light field of the sample.
Changhuei Yang, professor of electrical engineering, bioengineering, and medical engineering at Caltech says that ordinarily, we are only able to sense variations in intensity when it comes to looking at light from an object, but light varies in terms of both intensity and its phase, which is related to the angle at which light is traveling.
"What this project has developed is a means of taking low-resolution images and managing to tease out both the intensity and the phase of the light field of the target sample," Yang says. "Using that information, you can actually correct for optical aberration issues that otherwise confound your ability to resolve objects well."
With a large field of view and high resolution images, engineers on the project say that the new system could be particularly useful in pathology, hematology, wafer inspection, forensic photography, x-ray imaging, and electron microscopy.
View the Caltech press release.
Also check out:
Image processing software increases the visibility of catheters
Kinect-based sign language interpretation
Facial recognition software used to make arrest
Share your vision-related news by contacting James Carroll, Senior Web Editor, Vision Systems Design
To receive news like this in your inbox, click here.