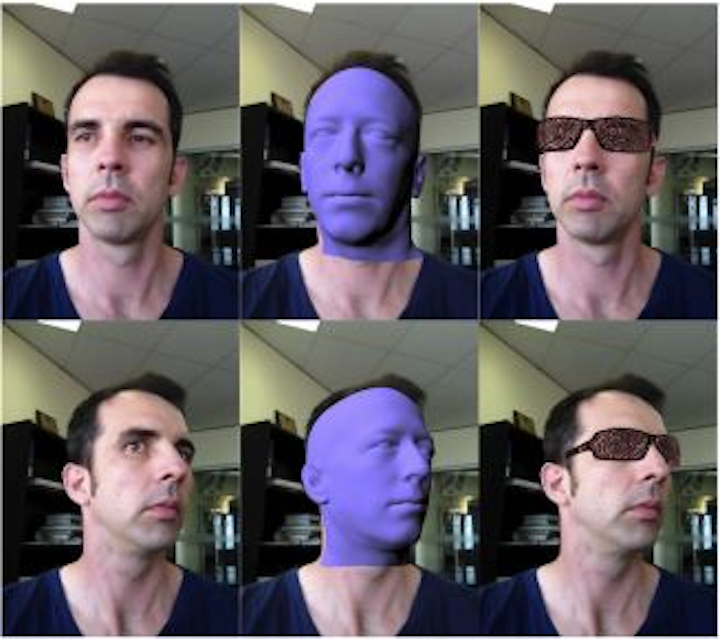 Australia's Commonwealth Scientific and Industrial Research Organisation (CSIRO) have developed 3D facial mapping software which allows users to virtually try on glasses before they buy.
The software, which CSIRO is calling Smart Vision research, interprets 2D pixels from an image of a human face and turns them into a 3D model of the face.
"Our computer modeling experts have developed a more accurate and reliable way to create a 3D scan of a person's face using newly developed algorithms that can turn 2D images from a mobile camera into a 3D model of the face," said Simon Lucey, Group Research Leader for CSIRO's Digital Productivity and Services Flagship in a press release. "The technology calculates size so unlike other virtual try-on technologies, customers can try on and view products from any angle — perfectly scaled to their face."
CSIRO has exclusively licensed the new Smart Vision technology to Glasses.com, an online eyewear retailer. Glasses.com has created an interactive app which enables users to accurately see how frames fit without having to leave home. Smart Vision enables the app to produce a 180° view of a user's face showing how each pair fits in 3D, and letting shoppers compare side-by-side images of each style. With the 3D rendering, users can reposition the glasses and tap their tablet or smartphone screen to "slide" frames up and down the bridge of their nose as they would in real life.
The Australian Retailers Association (ARA) said that this application is another example of why retailers need to take action to transform their business models for the digital age by embracing new technologies.
"Retailers need to move to hybrid business models that combine the strengths of today's online and bricks-and-mortar strategies," said ARA Executive Director Russell Zimmerman.
By 2025, a leading retailer will sell 40% more of its good online, so it is becoming increasingly evident that success will be driven by how effectively retailers can harness the power of new technologies to deliver unique value to customers, Zimmerman suggested.
View the press release
Also check out:
How 3D visualization software could be used to help treat injured soldiers
Five interesting applications of 3D scanning
3D imaging systems target multiple applications
Share your vision-related news by contacting James Carroll, Senior Web Editor, Vision Systems Design
To receive news like this in your inbox, click here.
Join our LinkedIn group | Like us on Facebook | Follow us on Twitter | Check us out on Google +