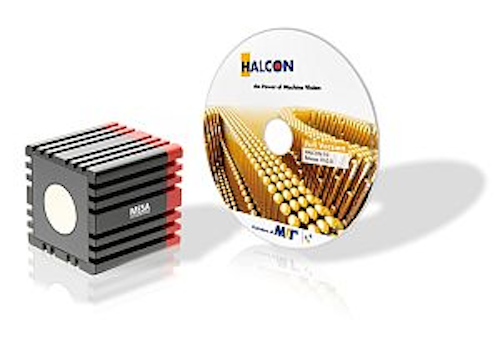 MVTec Software and MESA Imaging have released a new interface for connecting SR4000 3-D time-of-flight cameras to Halcon 10machine-vision software. The interface simplifies acquisition of calibrated 3-D data, such as distance, amplitude, or Cartesian x/y/z images, within the software. Halcon library tools can then be applied, such as operators for morphology, matching, or measuring. The software's 3-D vision tools include matching and measuring, which support 3-D vision applications in industries such as robotics, life sciences, logistics, and packaging.
MVTec Software
Munich, Germany
-- Posted by Vision Systems Design

---
NEW PRODUCT PRESS RELEASE
New HALCON Interface for SwissRanger 3D Cameras ===============================================
MVTec Software GmbH (Munich, Germany) and MESA Imaging (Zurich, Switzerland) have released a new interface for connecting the SR4000 3D cameras to MVTec's machine vision software HALCON.
The new interface allows the combination of the SR4000 time-of-flight camera by MESA Imaging with MVTec's HALCON 10. The industrial grade camera SR4000 enables to measure complex 3D objects at a high resolution in real time. The new interface now allows the easy acquisition of the calibrated 3D data, such as distance, amplitude, or Cartesian X/Y/Z images, within HALCON. Then the whole functionality of the HALCON library is ready to be applied, including operators for morphology, matching, or measuring. But most of all, HALCON's powerful 3D vision methods can be used, such as 3D matching and 3D measuring.
"HALCON is the ideal vision software for our high performance time-of-flight cameras", acknowledges Gerald Dahlmann, Sales Manager at MESA Imaging. "This new interface makes it easy for system integrators to use the high resolution of our 3D cameras within HALCON's 3D vision methods and build innovative machine vision solutions."
In particular, this will help customers who look for new solutions based on 3D vision technology in industries, such as robotics, life sciences, logistics, or packaging. "This combination of the industrial SR4000 3D camera with the well-proven HALCON software seems to be ideal for robust machine vision applications", says MVTec's Product Manager Christoph Zierl.
For future cooperation regarding this interface, MESA Imaging now has joined the MVTec Image Acquisition Partner Program. This guarantees a close partnership for a deeper understanding of each other's products and ensures the trouble-free integration of software and hardware at customer applications.
About SwissRanger 3D cameras
The SR4000 is the current product line of commercial TOF cameras from MESA Imaging. SR4000 cameras are compact in size, have superior noise performance and excellent long-term stability. The cameras come in a robust industrial grade housing and are available in diverse configurations with Ethernet or USB interface.
About MESA Imaging
MESA Imaging AG is a high-tech company based in Zurich (Switzerland). Since its foundation in 2006, the company has grown steadily and currently has 27 full-time employees. MESA Imaging develops and manufactures commercial time-of-flight (TOF) cameras for a wide range of applications including robotics, industrial automation, security & surveillance and health care.
About HALCON
HALCON is the comprehensive standard software for machine vision with an integrated development environment (IDE) that is used worldwide. It leads to cost savings and improved time to market: HALCON's flexible architecture facilitates rapid development of machine vision, medical imaging, and image analysis applications. HALCON provides outstanding performance and a comprehensive support of multi-core platforms, MMX and SSE2, as well as GPU acceleration. It serves all industries with a library of more than 1600 operators for blob analysis, morphology, matching, measuring, identification, and 3D vision, to name just a few. HALCON secures your investment by supporting a wide range of operating systems and providing interfaces to hundreds of industrial cameras and frame grabbers, including GenICam, GigE Vision, and IIDC 1394.

About MVTec
MVTec is a leading manufacturer of standard software for machine vision. MVTec products are used in all demanding areas of imaging: Semiconductor industry, web inspection, quality control and inspection applications in general, medicine, 3D vision, and surveillance. MVTec has more than 30 established distributors, located throughout Europe, North and South America, Australia, and Asia (China, Japan, Korea, India et al.). In addition, MVTec, LLC works out of Boston, MA (USA), to better attend the North American market since 2007. For more information refer to www.mvtec.com.