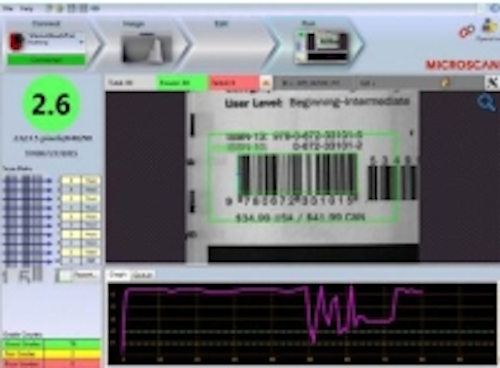 Microscan has announced the release of its Verification Monitoring Interface (VMI) software solution, which is designed for monitoring the quality of barcodes as they are produced on parts, labels, and packaging. VMI combines a Vision HAWK smart camera, NERLITE industrial lighting, and AutoVISION machine vision software. VMI provides visual feedback of verification results and manufacturers can use this live data to set alarms or trigger actions based on low barcode quality. By implementing barcode verification as a preventative measure, and with VMI running in real time as products are marked and labeled, poor and unreadable codes are prevented from entering the supply chain. In addition, VMI can review historic verification data and images and grade 1D barcodes against ISO 15416 quality parameters.
To Learn More:
Contact:Microscan
Headquarters: Renton, WA, USA
Product: Verification Monitoring Interface software solution
Key Features: Visualize barcode quality in a simple results window, monitor variations in barcode quality in real time, review historic verification data and images, configure alarms based on quality trending.

What Microscan says:
View more information on the VMI software.

View More Products| Locate a vendor or system integrator | Receive e-mail updates
Share new products that you think are particularly interesting or helpful by contacting James Carroll, Senior Web Editor, Vision Systems Design.
Join our LinkedIn group | Like us on Facebook | Follow us on Twitter | Connect on Google +