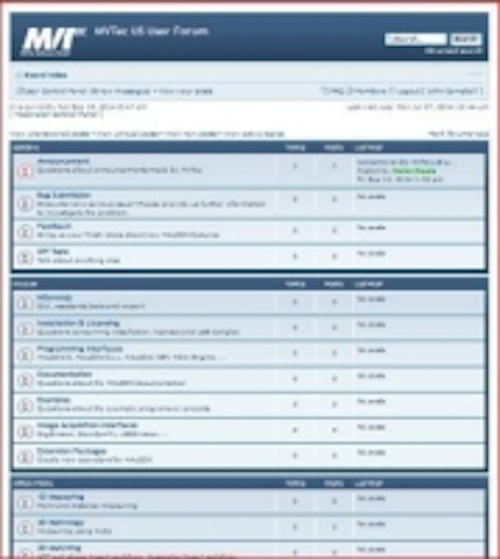 MVTec has launched a new online user's forum for North American HALCON machine vision software users to share expertise and ideas related to vision applications.
The forum was launched in order to establish a knowledge base where users can find tips and information on how to address specific application needs, as well as technical questions about HALCON. Members of the MVTec support team will administer the forum and, where appropriate, will be responding to posts as well.
MVTec recently provided a preview of its HALCON 12 software, which will be previewed at VISION 2014 in Stuttgart, and will be released on November 15, 2014. Among the features of the software that the company is touting is faster speeds. In addition to actively exploiting multi-core processors SSE2 and AVX, as well as GPU acceleration, HALCON will also utilize AVX2, which will enable faster running times on state-of-the-art processors. HALCON developers using HDevEngine can also expect to see faster speeds in the execution of their HDevelop code thanks to a new JIT (just-in-time) compiler that automatically compiles HDevelop code to machine code internally.
HALCON 12 will also have a more robust surfaced-based 3D matching when processing noisy image data from time-of-flight sensors, and will feature a new matching techniquecalled local deformable surfaced-based matching. With this new feature, bent or stretched objects can be found reliably, thus expanding the possibilities for 3D vision applications. The software will also feature improved sample-based identification.
Lastly, the new software will feature camera calibration, faster development and parallel programming in HDevelop, all of which will be highlighted in future editions of the MVTec Insider newsletter. MVTec has provided a list of HALCON 12 supported platforms and system requirements. To view these system requirements, click here.
To register for the forum, click here.
Share your vision-related news by contacting James Carroll, Senior Web Editor, Vision Systems Design
To receive news like this in your inbox, click here.
Join our LinkedIn group | Like us on Facebook | Follow us on Twitter | Check us out on Google +