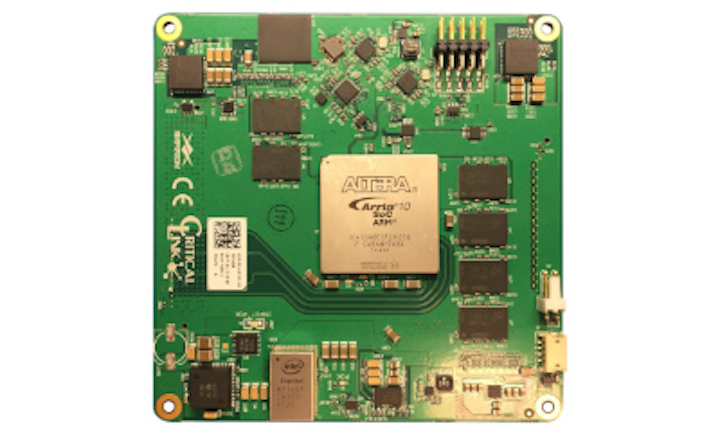 The Critical Link MitySOM-A10S system on module designed for embedded modules, features the Intel/Altera Arria 10 SoC with dual core Cortex-A9 AMRs and up to 480KLE user-programmable FPGA fabric. The MitySOM-A10S also includes on-board power supplies, two DDR4 RAM memory subsystems, a micro SD card, a USB 2.0 OTG port, and a temperature sensor.
Critical Link will present in Hall 4 / Booth 4-180 at Embedded World 2019. The company's booth will also feature the MitySOM-5CSx family, based on the Intel/Altera Cyclone V SoC.

To Learn More:
Contact: Critical Link
Headquarters: Syracuse, NY
Product: MitySOM-A10S SOM
Key Features: Intel/Altera Arria 10 SoC, DDR4 RAM x2, USB 2.0 OTG port, temperature sensor.
What Critical Link says:
View more information on the MitySOM-A10S SOM.
View More Products | Locate a vendor or system integrator | Receive e-mail updates
Share your vision-related news by contacting Dennis Scimeca,Associate Editor, Vision Systems Design

To receive news like this in your inbox, click here.
Join our LinkedIn group | Like us on Facebook | Follow us on Twitter