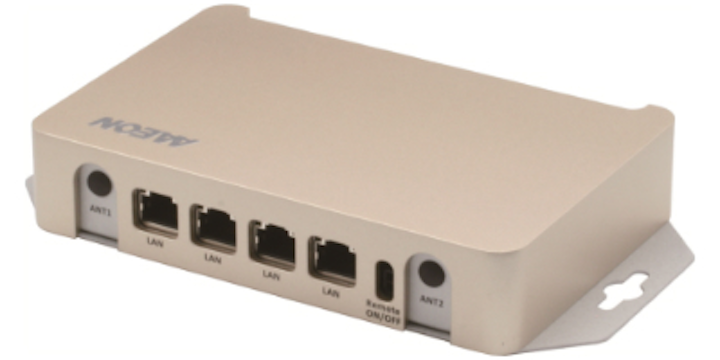 The BOXER-8120AI controller for edge AI applications from AAEON is powered by the NVIDIA Jetson TX2, supports 256 CUDA cores, and multiple AI frameworks including TensorFlow, Caffe2, and MXNet. The BOXER-8120AI also features 8 GB LPDDR4 memory, 32 GB eMMC storage, and a Micro SD slot.
The system measures 153 x 30 x 101 mm, has 4 LAN ports, two USB 3.0 ports, and USB OTG. It features an aluminum chassis, anti-dust protection, a wide operating temperature range, and a power input range of 9 - 24 Vdc. The BOXER-8120AI supports LINUX Ubuntu 16.04.

To Learn More:
Contact: AAEON
Headquarters: Taipei, Taiwan
Product: BOXER-8120AI
Key Features: Built around NVIDIA Jetson TX2, 256 CUDA cores, 8 GB LPDDR4, 32 GB eMMC, 4 LAN ports, two USB 3.0 ports, USB OTG.
What AAEON says:
View more information on the BOXER-8120AI.
Related stories:
Artificial intelligence processors enable deep learning at the edge
Artificial intelligence processing board for edge computing introduced by AAEON
Jetson TX2 embedded artificial intelligence computer introduced by NVIDIA
Share your vision-related news by contacting Dennis Scimeca,Associate Editor, Vision Systems Design
To receive news like this in your inbox, click here.