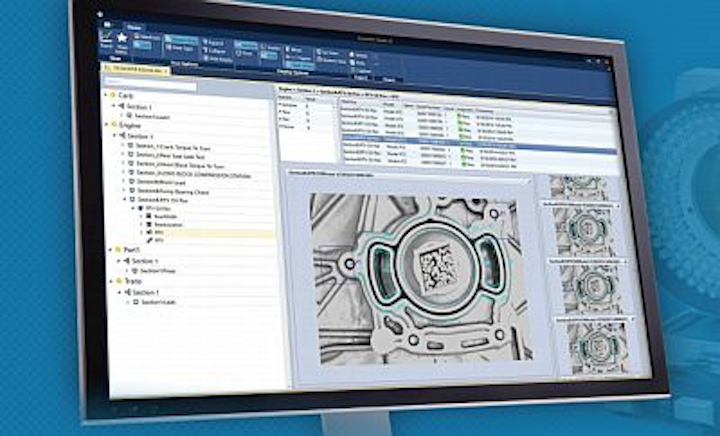 QualityWorX Vision from Sciemetric Instruments Inc. is a new flexible data management and analytics platform that helps manage machine vision images and data, which enables manufacturers to improve and optimize their machine vision inspectionprocesses.
The platform collects and archives images and image data in a centralized database, from either a single station or an entire production line. This includes image overlay information, along with their scalar data and digital process signatures. Images and data can be recalled with search criteria, enabling users to filter and scroll through thumbnail images, and the data can be analyzed with the other datasets that pertain to a specific part of assembly, and the result is real-time insights that "empower smart decision making," according to Sciemetric.
With the platform, suggests the company, silos can be eliminated by collecting data from a single machine vision station, multiple vision stations, or all stations on the plant floor into one consolidated part history record. Currently, the same collects data from companies such as Cognex and Keyence into one system, with more on the way.
"Forward-thinking manufacturers understand that data is the key to unlocking a truly smart factory that is more efficient and more profitable," said Mathew Daniel, Sciemetric's Vice President of Operations. "But this requires user-friendly tools capable of collecting all relevant production data by serial number so it can be retrieved and analyzed as needed to trace and address root cause when problems arise. By adding Vision capability to our QualityWorX platform, we are helping manufacturers optimize their existing machine vision investments and make that data do more."
View more information on QualityWorX Vision.
Share your vision-related news by contacting James Carroll, Senior Web Editor, Vision Systems Design

To receive news like this in your inbox, click here.
Join our LinkedIn group | Like us on Facebook | Follow us on Twitter
Learn more: search the Vision Systems Design Buyer's Guide for companies, new products, press releases, and videos