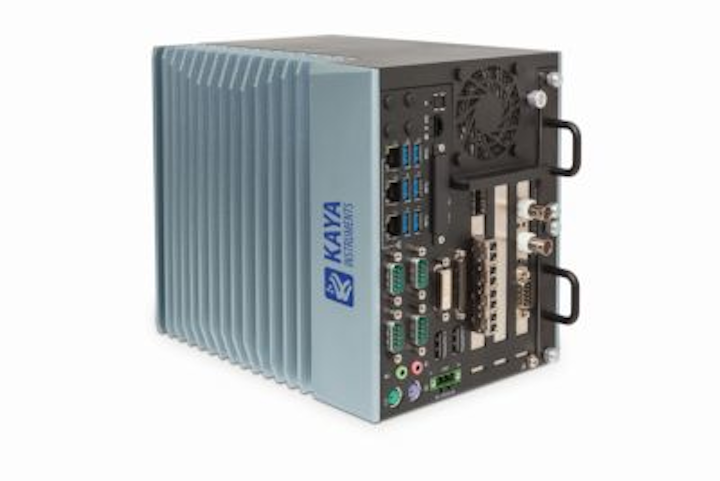 At the Kaya Instruments booth at The Vision Show 2018, the company will showcase its high-speed cameras and digital video recorder (DVR), as well as its line of frame grabbers. The Super Speed DVR (pictured) offers CoaXPress, 10GigE, Camera Link HS, and the Kayafiber interface, and features a 40 Gbps bandwidth and up to 1-hour recording time.
Cameras offered by Kaya Instruments and on display at the show include the CMV-50 camera with 50 MPixel ams Sensors Belgium CMOS sensor and fiber interface that reaches a speed of up to 30 fps, as well as the JetCam 19, JetCam 25, and JetCam 160, all of which feature CMOS image sensors (2.1 MPixel, 25 MPixel, and 16 MPixel) and achieve frame rates of 2400 fps, 80 fps, and 300+ fps, respectively.
Additionally, the company will showcase its line of frame grabbers, which support CoaXPress, Camera Link HS, 10 GigE, and fiber interface.
The Vision Show 2018 booth number: 409
To Learn More:
Contact:Kaya Instruments
Headquarters: Haifa, Israel
Products: Super Speed DVR, CMV-50 camera, JetCam 19 camera, JetCam 25 camera, JetCam160 camera, Komodo and Predator frame grabbers.
What Kaya Instruments says:
View more information on the cameras.
View more information on the frame grabbers.
View More Products| Locate a vendor or system integrator | Receive e-mail updates
Share your vision-related news by contacting James Carroll, Senior Web Editor, Vision Systems Design

To receive news like this in your inbox, click here.
Join our LinkedIn group | Like us on Facebook | Follow us on Twitter