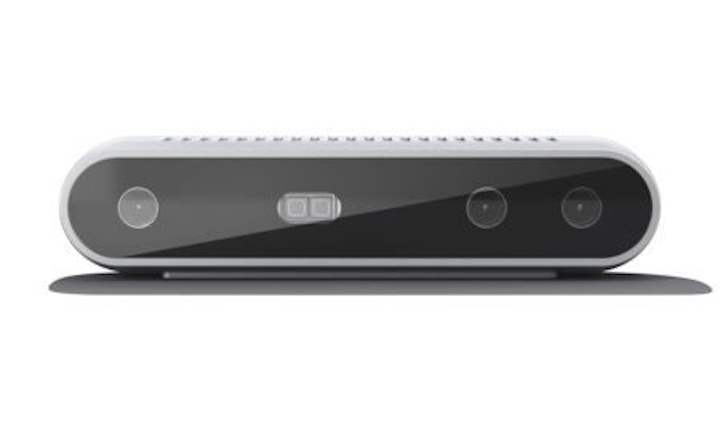 EyeVision 3D machine vision software from Eye Vision Technologies (EVT) now supports theIntel D-400 line of 3D cameras.
The 3D command set within EyeVision 3D software enables users to capture 3D images and process point clouds with the Intel sensors. With the RealSense sensors and EyeVision software, according to EVT, it is possible to perform tasks including height and depth measurements, object counting and recognition, and 3D pattern matching with the 3D object match command.
Intel recently expanded on its line of RealSense D400 3D cameras with the launch of the D415 and D435 depth cameras, which come ready to use in both indoor and outdoor applications, and in any lighting environment. Supported by the Intel RealSense Software Development Kit (SDK 2.0), which is available for the first time as a cross-platform, open-source SDK; Intel's 3D cameras include different depth technology features. First, the D415 3D camera features a rolling shutter sensor with 1.4 µm pixel size and a standard field of view (63.4° x 40.4° +/- 3° depth FOV, and 69.4° x 42.5 +/- 3° RGB FOV), for a general-purpose solution to add depth and stream data to existing systems.
Intel's D435 depth camera feature a global shutter sensor with 3.3 µm pixel size that enables capture with fast motion or use cases such as virtual reality. This camera has a depth field of view of 85.2° x 58° (+/- 3°) and an RGB sensor FOV of 69.4° x 42.5° (+/- 3°). Both cameras feature USB 3.0 Type C interface, active infrared stereo depth technology, depth stream output resolution of up to 1280 x 720 at up to 90 fps for depth stream output frame rate, as well as a 1920 x 1080 RGB sensor resolution and a frame rate of 30 fps.
EyeVision 3D will enable users to extract depth data from the camera and use the interpretation of this data in the platform of choice, including Intel and ARM processors, according to EVT. Application areas for the Intel sensor combined with the software include height measurement industries in applications such as automotive inspection, robotic, food and beverage inspection, and medicine.
View more information on EyeVision software.
View more information on Intel RealSense cameras.
To receive news like this in your inbox, click here.
Join our LinkedIn group | Like us on Facebook | Follow us on Twitter