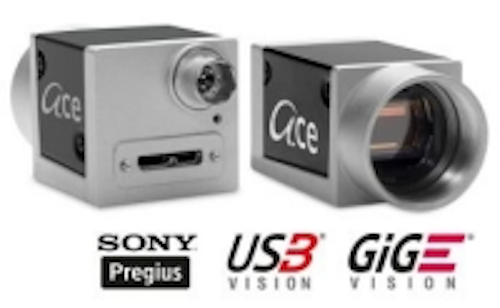 Two USB and two GigE industrial cameras from Basler, which feature Sony's IMX174 CMOS image sensor, are now officially in series production and available for all.
Basler's acA 1920-50 gm/gc GigE cameras and acA 1920-155 gm/gc USB 3.0 cameras are the new models with the IMX174 sensor. The acA 1920-50 gm (monochrome) and acA 1920-50 gc (color) achieve a frame rate of 50 fps with a GigE interface while the acA 1920-155 gm (monochrome) and acA 1920-155 gc (color) achieve a frame rate of 155 fps with a USB 3.0 interface. All of the camera models feature a 5.86 µm pixel size and 10 or 12 bit pixel depth. In addition, all of the cameras come with Basler's pylon Camera Software Suite.
Additionally, the new industrial cameras feature high quantum efficiency (more than 70%), wide dynamic range (approximately 73 dB), and low noise ratio. The cameras, according to Basler, provide an ideal replacement for CCD cameras.
"The combination of the Basler ace, one of the most successful camera series in the market in recent years, and these highly powerful sensors leaves no wish unfulfilled," Jana Bartels, Product Manager for the Basler ace product line. "Our new ace models are fast, extremely sensitive, and very small and lightweight. Because of this you can use them in a number of challenging applications, including factory automation, the transportation and logistics sector as well as in microscopy and medical technology."

View more information on the Ace cameras.
Share your vision-related news by contacting James Carroll, Senior Web Editor, Vision Systems Design
To receive news like this in your inbox, click here.
Join our LinkedIn group | Like us on Facebook | Follow us on Twitter | Check us out on Google +