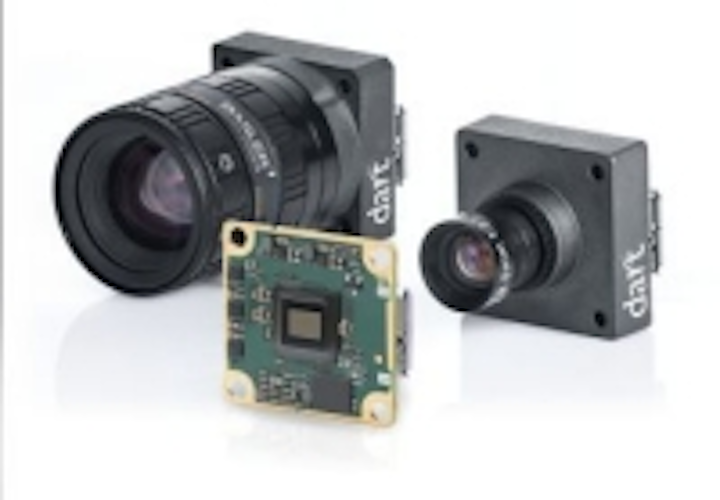 After introducing the new board-levelUSB 3.0 cameras at VISION 2014, Basler's dart series is now going into production and are available effective immediately.
As currently constituted on the Basler website, the dart cameras are available in seven total models, when including monochrome and color versions:daA2500-14uc/um, daA1920-15um, daA1920-30uc/umm and the daA1280-54uc/um. These cameras feature Aptina (ON Semiconductor) CMOS image sensors ranging in size from 1.2 MPixel to 5 MPixel and achieve frame rates of 14 fps, 15 fps, 30 fps, and 54 fps, respectively. The 27 mm x 27 mm board-level cameras are available in S-Mount, CS-Mount, and bare board versions.
Customers can also pick from a range of accessories that are suitable for the dart, includingBasler lenses, lens adapters, matching cables, and an I/O starter kit. Additionally, the cameras come with Basler's pylon camera software suite.
Basler's dart cameras are one of the few board-level cameras currently on the market that are compliant with the USB3 Vision standard, according to the company.
View more information onBasler dart cameras.
Share your vision-related news by contactingJames Carroll, Senior Web Editor, Vision Systems Design
To receive news like this in your inbox,click here.
Join ourLinkedIn group | Like us on Facebook | Follow us on Twitter| Check us out on Google +