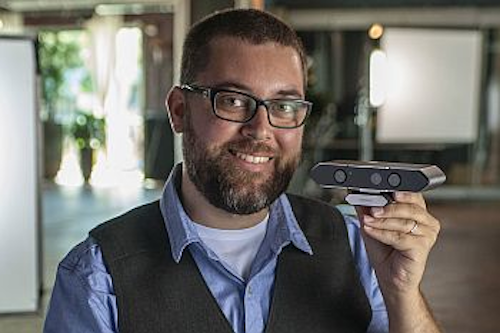 Orbbec 3D camera: The successor to the Microsoft Kinect?
The following is a Q&A with Josh Blake (pictured) Co-Founder and Vice President of Engineering atOrbbec, a startup company that developed a new 3D camera that interactive artist Kyle McDonald dubbed "the successor to the Kinect." Additionally, quotes from industry experts and academics that augment Blake's answers are included in the article.
What led to the development of the Astra and Persee cameras?
Our mission at Orbbec is to create intelligent technologies for every human, everywhere. We believe intelligent computing devices require a foundation of 3D vision. Our goal is to provide our customers the highest quality 3D hardware andsoftware platform in the world.
When we looked at existing 3D cameras in the market, we saw a trend: vendors attaching 3D cameras to existing devices as a peripheral add-on, and then locking it to a walled-garden ecosystem. To achieve our mission and inspire innovation in the community, we knew we needed to be 100% focused on supporting the entire 3D ecosystem —fromresearch, to production, to experience—to drive a 3D revolution. Today, our end-to-end investment in 3D technology includes developing a proprietary microchip that can process high-resolution depth data in real time and establishing our own manufacturing line to control cost and quality.

This approach and philosophy have allowed us to design and manufacture the low-cost Orbbec Astra line of 3D cameras, which set the standard now for resolution, range, accuracy and latency. With Orbbec Persee we are integrating a powerful ARM computer and an Astra Pro 3D camera on a single device, allowing developers to build applications with vision, hearing, and other perceptive capabilities.
"Orbbec Persee is a long awaited, and much needed catalyst for the development of creative, intelligent computing experiences," said George Barbastathis, Professor of Mechanical Engineering and Singapore Research Professor of Optics at MIT. "Reaching this level of 3D sophistication, at an affordable price, is groundbreaking."
How are they different from the Kinect camera?
Of course Orbbec did not invent 3D cameras, but we have improved the quality and reduced the price with our Astra and Astra Pro 3D cameras. We are also taking a unique approach to 3D technology with the creation of Persee. We designed it from the ground up as an integrated camera-computer, not a computer with a 3D camera added.
We also believe in supporting an open source, cross-platform approach to development. Persee has Android and Ubuntu built in. The multi-platform Orbbec Astra SDK was open sourced to GitHub earlier this month (available atwww.orbbec3d.com/develop) and enables developers to begin designing the next generation of interactive experiences. It supports Windows, Linux, OS X, and Android, as well as the creative coding framework Processing. Support for openFrameworks, Unity 3D, and Cinder is coming soon. This means developers can use our 3D technology with the operating system of their choice and code with the frameworks they know and love.
Greg Borenstein, NYU Interactive Telecommunications Program, MIT Media Lab, Author of "Making Things See: 3D vision with Kinect, Processing, Arduino, and MakerBot," commented on the camera.
"This Orbbec sensor could lead to a new golden age of open source 3D hacking. Like the original Kinect, it puts 3D scanning and body tracking within the reach of designers, students, artists, and creative coders of all types. I can't wait to use it in my own projects and to see what the community does with it."
You say that you all share a belief that 3D cameras would revolutionize computing. Can you expound on this?
Consumer-available 3D cameras are a transformative technology that will improve all of our lives. However, the applications of this technology still require a significant amount of innovation and experimentation.
Page 1 |Page 2