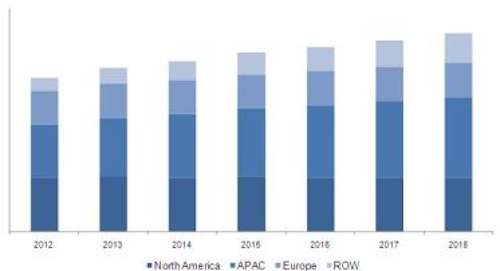 Global sales for image sensors—including CCD, CMOS, hybrid, charge injection device sensors—are expected to reach $10.75 billion by 2018, according to an analysis from MarketsandMarkets.
In 2012, the value of the image sensor market was $8 billion, but is expected to reach $10.75 billion in 2018 at an estimated compound annual growth rate of 3.84%. Factors that are expected to grow the market include emerging applications such as medical imaging, point-of-view cameras, unmanned aerial vehicle cameras, digital radiology, and factory automation applications.
In addition, manufacturers are also focusing on x-ray and infrared image sensors. The report states that by 2018, approximately 800,000 units of infrared sensors and 300,000 x-ray sensors are forecasted to be shipped.
Image sensor manufacturers such as Aptina, OmniVision Technologies, Samsung Electronics, Sharp Corporation, Sharp Microelectronics, Sony Corporation, ST Microelectronics, and Toshiba Corporation are among the companies profiled in the report. These profiles analyze the companies' strategies to grow in the market, new product launches, acquisition and merger news, and contracts signed from 2008 to 2012.
Other takeaways from the report include:
CMOS technology had approximately 85% of the market share in 2012.
North America holds the largest share but the Asia-Pacific region is expected to surpass in 2013 as a result of strong consumer electronics.
Camera mobile phones are major contributors to the market, as approximately 80% of image sensors shipped were for this application.
The report is based on extensive research on the image sensor market and is aimed at identifying the entire market of image sensors across a variety of applications and sub-segments including healthcare, surveillance, automobile, technology, and entertainment.
Read more or purchase the image sensor analysis from MarketsandMarkets.
Also check out:
Factory automation market could reach $185 billion by 2016
Global industrial robot sales in 2012 hit second highest mark ever
Industrial robotics and agricultural machinery to grow China's machinery market
Share your vision-related news by contacting James Carroll, Senior Web Editor, Vision Systems Design
To receive news like this in your inbox, click here.