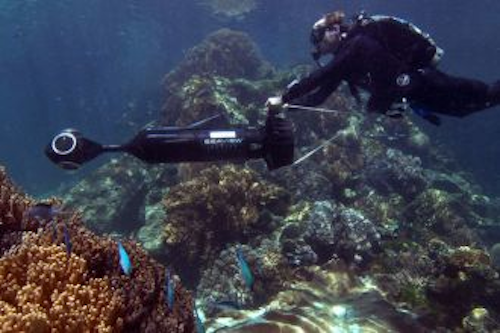 Google's Street View enables the exploration of places throughout the world using 360-degree street-level imagery. While this technology is both innovative and fascinating, Google decided to dive a little deeper. Literally.
Partnering with Underwater Earth and Catlin US, Google has begun creating full 360-degree views underwater, building a subaqueous Google Street View environment. Though the project has mapped the ocean floor in only a select few locations, including Oahu and Maui, Hawaii and locations around the Great Barrier Reef off the coast of Australia the long-term goal is to make all of the maps more comprehensive by adding more ocean data, according to Google's Jennifer Foulkes.
"We want to take you from your home to the turtle's home," she said in a TechCrunch article.
Google's divers are using SVII cameras that are sealed in a waterproof compartment on a rig, which has a propeller to move the diver along while capturing images. Included on the rig is a tablet that controls the cameras, GPS equipment, and other sensors, explains ExtremeTech. Every three seconds or about two meters apart, the rig takes 360-degree fisheye images while moving about 4 km/hour. The images are then stitched together and published online in a fashion that allows anyone with a desktop, laptop, tablet or smartphone to self-navigate a "virtual dive," according to the Catlin Seaview Survey.
There are only four of these $50,000 cameras currently in use. Global rollout is part of the longer-term plan, which also includes remotely operated underwater robots and, reportedly, cameras that capture images on their own. This development would increase the amount of data that could be collected and help bring Google's Underwater Street View to the world's oceans over the next three years, according to Gadget Review.
View Google's Underwater Street View gallery.
Also check out:
Vision-guided robots will restore coral reefs
Remote vehicles image ocean depths
Underwater camera gets funding
Share your vision-related news by contacting James Carroll, Senior Web Editor, Vision Systems Design
To receive news like this in your inbox, click here.