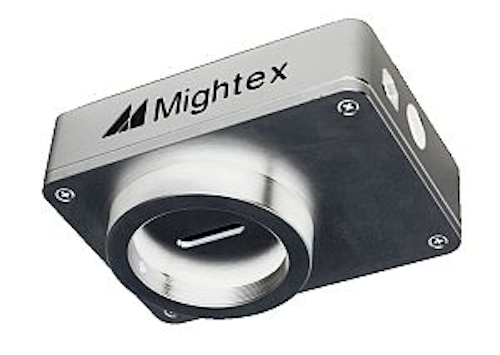 NEW PRODUCT PRESS RELEASE
USB2.0 Machine Vision CCD 8/12-Bit Line Camera with External Trigger
Mightex's (Toronto, ON, Canada) TCx-1024-U series line camera is a high-speed cost-effective high-performance machine vision monochrome linescan CCD camera, based on a single-line, 1024-pixel CCD chip with USB2.0 (480 Mb/s) interface. CCD line cameras have several advantages over their area-array counterparts, including high optical linear resolution that allows systems developers to use the cameras to capture two-dimensional (2-D) images by moving the object or the CCD perpendicularly to the scan line. The TCx-1024-U is a compact linear camera ideal for a variety of OEM applications in industry process control, optics, biology, spectroscopy and reflection imaging. Setting up the TCX-1024-U line camera is very easy, the user simply installs the latest version of the operating software onto any desktop or notebook PC and then connects the USB cable from the line camera to the PC. There is no need for installing a DAC card, or using an external power supply.
Board-level cameras TCN-1024-U (glass window) and TCN-1024-UF (fused Silica window) are available for OEM customers with MoQ of qty 10+. Board-level cameras are designed for OEM applications, when a system-level enclosure is usually provided. One should be properly grounded when handling a board-level camera, in order to avoid Electro-Static Discharge (ESD) related damages. ESD related damages (which are considered as mis-handling) are not covered by product warranty. For lab use, it is strongly recommended that one choose an enclosed camera, instead of a board-level one.
*Actual Frame Rate depends on exposure time and frame time settings, and the host resources.
**. In Trigger Burst mode, the frame rate can reach 25000/10000fps (8/12bit mode).
SOURCE:Mightex Systems

-- Posted byVision Systems Design