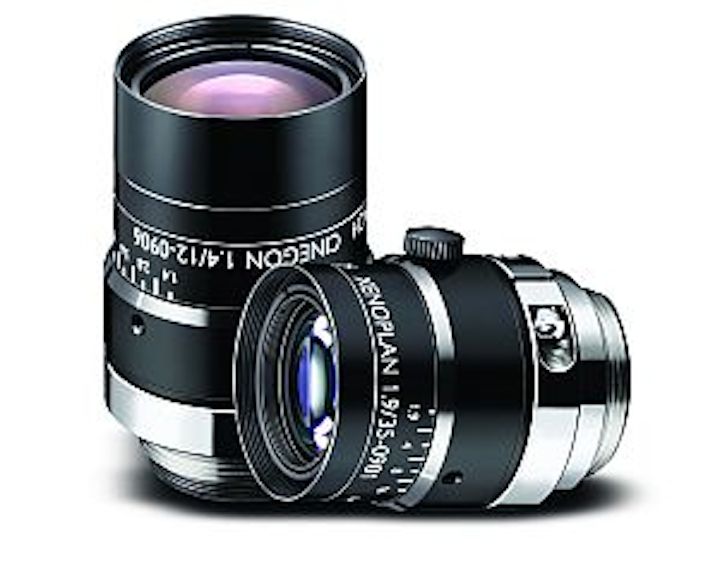 Megapixel C-mount 2/3-in. (11-mm image circle) lenses are designed for aerospace, military, and other high-performance imaging markets. The compact lenses are optically corrected and broadband coated for 400–1000 nm (VIS+NIR) spectral range on megapixel cameras. A lockable focus and iris-setting mechanism support long-term stability in rigorous production environments. Focal lengths include 4.8, 6, 8, 12, 17, 23, 35, and 70 mm.
Schneider Optics
Van Nuys, CA, USA
-- Posted by Vision Systems Design

----
NEW PRODUCT PRESS RELEASE
Schneider C-Mount 2/3" (11mm image circle) Lenses
New Schneider C-mount 2/3" (11mm image circle) lenses are designed for aerospace, military, and other high performance imaging. These compact precision primes are optically corrected and broadband coated for the spectral range of 400-1000nm (VIS+NIR) on megapixel cameras. Engineered to image properly across the entire specified range, they offer consistent operation without focus shifts.
Known for their high vibration stability, Schneider C-mount lenses feature a robust yet lightweight mechanical design. A lockable focus and iris-setting mechanism guarantees long-term stability even in rigorous production environments.
The Schneider 2/3" Mega Pixel C-Mount lens family includes the following focal lengths: 4.8mm, 6mm, 8mm, 12mm, 17mm, 23mm, 35mm, and 70mm. Most have front threads to accept a screw-on filter, except for the 4.8mm and 6mm lenses that instead have an available filter adapter. Compact Series lenses are also available for 16mm and 22mm sensors.
To find out more about Schneider filters, contact Jim Sullivan at: Schneider Optics, 7701 Haskell Avenue, Van Nuys, CA 91406, telephone (818) 766-3715; fax (818) 505-9865; or at: 285 Oser Avenue, Hauppauge, NY 11788, telephone (800) 645-7239/(631) 761-5000, fax (631) 761-5090.
SOURCE: Schneider Optics