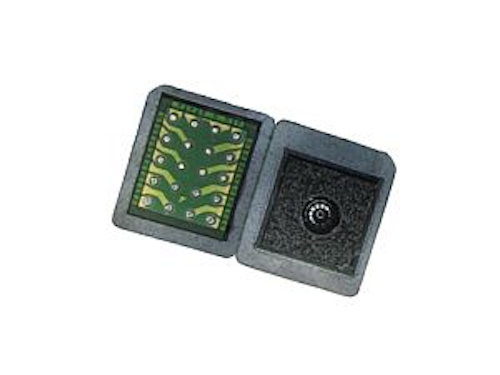 The Exiguus product line launches with a VGA wafer-level camera, which integrates wafer-level optics assembled with CMOS image sensors. Exiguus H11-A1 offers a 1/10-in. form factor that is suited for automotive solutions that require miniaturized cameras. The camera is reflowable, offers full functionality, and uses one element or two surface lenses. The 640 x 480-pixel device has both automatic and manual control functions. Glass wafers can withstand harsh conditions.
Nemotek Technologie
Sala Al Jadida, Morocco
-- Posted by Vision Systems Design

----
NEW PRODUCT PRESS RELEASE
Nemotek Technologie Debuts New Product Line with Thinner VGA Camera
Offering high quality features in a very small form factor, the new Exiguus leads next-generation of wafer-level cameras
SALA AL JADIDA, MOROCCO – Nemotek Technologie, a manufacturer of customized wafer-level cameras, announces the debut and availability of its new product line, the Exiguus. The Exiguus product line launches with a VGA wafer-level camera, which integrates wafer-level optics assembled with CMOS image sensors. Specifically, the Exiguus H11-A1 camera offers the thinnest form factor in Nemotek's product portfolio, featuring one tenth (1/10) of an inch.

Offering a single partner to meet all wafer-level needs – from optics to packaging – Nemotek is able to deliver cameras to the market faster than its competitors without compromising quality. In addition, its ability to customize wafer-level solutions ensures each camera design is specifically tailored to meet customer requirements for ultra-small and compact camera needs.
The Exiguus H11-A1 is reflowable, offers full functionality and uses one element or two surface lenses. Offering automatic and manual control functions, the camera features 640 x 480 pixel resolutions. In addition, the Exiguus utilizes the benefits of glass wafers instead of traditional plastic and can withstand the harshest environmental conditions, making it ideal for several existing and new applications requiring cutting-edge camera technology.
"Today we debut a new VGA camera that achieves superior performance in a very small form factor. The Exiguus product line is meant to serve all markets and will soon include another camera specifically dedicated to medical applications," said Hatim Limati, Sales & Marketing VP of Nemotek Technologie. "Exiguus H11-A1 is a wafer-level camera solution that provides high-end features like color saturation and correction, edge enhancement and lens shading correction. With the new solution, we are not only showcasing the talents of our team but also demonstrating our ability to maintain a strong industry presence in a very competitive landscape."
Nemotek's Exiguus H11-A1 is currently available in volume production.
About Nemotek Technologie
Nemotek Technologie designs, develops and manufactures customized Wafer-Level Cameras for portable applications. The company provides customers with innovative design and manufacturing services for Wafer-Level Packaging, Wafer-Level Optics and Wafer-Level Cameras. Established in May 2008, Nemotek Technologie is funded by Caisse de Dépôt et de Gestion (CDG). The company features a world-class manufacturing and clean room facility located in the Rabat Technology Park, a hub for technology development based in Morocco.
SOURCE: Nemotek Technologie