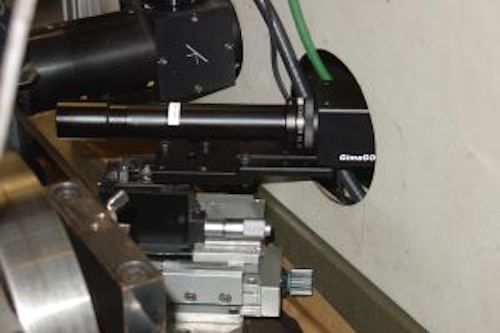 In ophthalmologic surgery, curved needles with a diameter of approximately 0.2 mm are used to close wounds. Suture thread is swaged to these medical needles. The needle/thread must merge seamlessly, maintaining a consistent diameter, so the needle cavity is completely filled with the suture thread. To achieve this goal, Johnson & Johnson Medical (Norderstedt, Germany) uses a laser to drill holes approximately 0.11 mm in diameter into which the suture thread is later manually inserted in a cleanroom and the needle/thread combination sterile-packed as a single unit.
Until recently, the diameter of each hole was inspected manually with the help of gauging tools because automation could not ensure the required accuracy and would alter the existing, optimized production process. To automate the process and maintain a production speed of two needles per second, a camera is allowed an exposure time of only approximately 30 µs, during which the needle must remain stationary. Within this time, an image with a resolution of 0.002 mm in a 0.22 × 0.22-mm image field (equivalent to a nine-fold optical magnification) has to be captured. In addition, a working distance of 100 mm and a relatively large depth of field must be maintained.
To meet these requirements, system integrator Krempien+Petersen Qualitäts-Kontrollsysteme (Hamburg, Germany) created a vision system based on a GimaGO 433B monochrome GigE camera and a TCH6-110 telecentric lens with a 1.5x Mpixel converter (for testing), both from NET New Electronic Technology (Finning, Germany). Image analysis is performed using VisionPro software from Cognex (NASDAQ:CGNX; Natick, MA, USA). A custom user interface makes it easier for the machine operator to adjust the various settings and the general viewing options.
SOURCE: NET New Electronic Technology

Posted by Conard Holton
Vision Systems Design