IDS's uEye CP GigE camera uses one cable
At 29 x 29 x 41 mm, the uEye CP GigE camera from IDS Imaging Development Systems is connected with one cable and offers plug-and-play ease of use.
Feb 3rd, 2011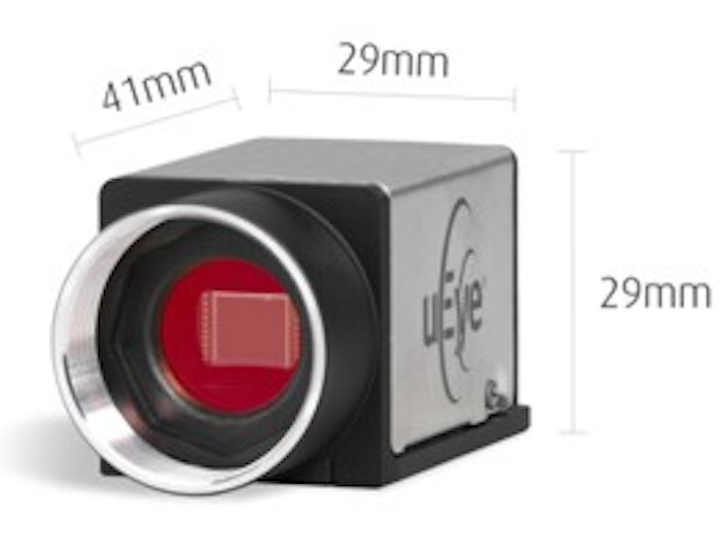 NEW PRODUCT PRESS RELEASE
New industrial camera makes an additional power cable redundant
At just 29 x 29 x 41 mm, the uEye CP GigE camera fromIDS Imaging Development Systems (Woburn, MA, USA) is one of the smallest models to feature this technology, which can supply the camera's power via the data cable (Power over Ethernet). At the same time, the GigE interface allows very high data rates and cable lengths of up to 100 meters. For the first time, the uEye CP combines the simplicity of a USB uEye with the performance of GigE: It is connected with just one cable and offers true plug-and-play ease of use. For users of analog cameras, the compact uEye is an optimal alternative – it combines all of the advantages of digital technology in the popular housing size of analog models.
The GigE uEye CP makes the most of its advantages in the industrial environment: Its robust magnesium housing and screw-on connectors, as well as its optically decoupled inputs and outputs, make this the perfect camera for any job. A galvanically isolated supply connection for a voltage of 12-24 V can also be used as an alternative to PoE technology and expands the versatility of the camera.
The new series launch features three models with CMOS sensors that cover a wide range of applications. The UI-5240CP is equipped with the new 1.3 Megapixel global shutter sensor bye2v and reaches 50 frames per second in full screen mode. At 5 Megapixel, the UI-5480CP offers the highest resolution. The UI-5220CP is equipped with a WVGA chip capable of 100 frames per second.
SOURCE:IDS Imaging Development Systems Inc.

-- Posted byVision Systems Design