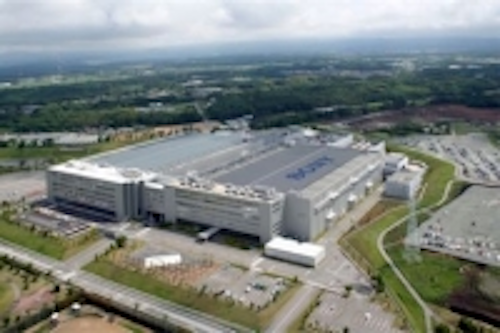 In order to increase production capacity for its stacked CMOS image sensors, Sony Corporation announced plans to invest in Sony Semiconductor Corporation's Nagasaki Technology Center (Nagasaki TEC) and Kumamoto Technology Center (Kumamoto TEC) during the second half of the fiscal year ending March 31, 2015 through the first half of the fiscal year ending March 31, 2016.
Sony's stacked CMOS sensors are back-illuminated sensors that layer back-illuminated structure pixels onto chips containing the circuit section for signal processing in place of supporting substrates in conventional back-illuminated CMOS image sensors has been developed by Sony. The stacked CMOS structure improves image quality with higher pixel numbers, increases imaging speed and low-light-imaging capability, and has a more compact size than traditional back-illuminated CMOS image sensors.
The investment is primarily being allocated to reinforce Nagasaki's TEC layering process production capabilities, as well as Kumamoto's TEC mastering process facilities. The total investment is expected to be approximately 35 billion yen, comprising approximately 9 billion yen (Approximately 3 billion for Nagasaki TEC and 6 billion for Kumamoto TEC), to be carried out in FY14, and approximately 26 billion yen (Nagasaki TEC) to be carried out in FY15.
Earlier this year in January, Sony announced plans to establish and invest in Yamagata Technology Center as a facility mainly conducting the mastering process. This investment is expected to enable Sony to complete subsequent stages of production, including the layering process, at Nagasaki TEC on semiconductor chips that have undergone the mastering process at Yamagata TEC, providing Sony with a fully integrated production system for stacked CMOS image sensors.
With these investments, Sony is expected to increase the current capacity of approximately 60,000 wafers per month to approximately 68,000 wafers per month in August 2015.
In addition, Sony's launch of the IMX174 global shutter image sensor earlier this year was significant, as many companies, including Point Grey, SMARTEK, Toshiba Teli, and MATRIX VISION soon thereafter launched new industrial cameras touting the new CMOS sensor. This launch, along with the news of the investment, indicates that Sony has been ramping up its efforts for CMOS sensors in industrial applications.
View the press release.
Also check out:
Industrial camera survey provides potential glimpse into future of camera market
USB3 Vision camera from Point Grey first to feature Sony global shutter CMOS image sensor
Toshiba Teli introduces USB 3.0 camera with Sony global shutter sensor
Share your vision-related news by contacting James Carroll, Senior Web Editor, Vision Systems Design
To receive news like this in your inbox, click here.
Join our LinkedIn group | Like us on Facebook | Follow us on Twitter | Check us out on Google +