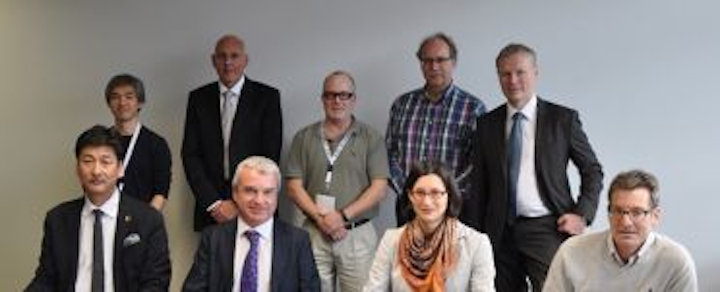 On the day before VISION 2014 started, November 3, VDMA Machine Vision joined the international G3 initiative on standardization, a group that includes the AIA, the Japan Industrial Imaging Association (JIIA), and the European Machine Vision Association (EMVA).
Commenting on the news, Klaus-Henning Noffz, member of the board of VDMA Machine Vision, suggested that machine vision standards are accelerating the use and growth of machine vision.
"VDMA Machine Vision with its expertise and membership strength in system integration is looking forward to share this knowledge within the G3 initiative and to support the further development and promotion of international standards," he said. "I am happy to now officially join the international cooperation agreement on global coordination of machine vision standardization."

Speaking on behalf of G3, Jochem Hermann, EMVA board member, said the VDMA joining is a positive step that will be beneficial for the development of the whole industry.

During the VISION show, the EMVA, AIA, and JIIA once again gathered at the International Machine Vision Standards booth to present the most commonly used digital interface standards in the industry and offer advice on which standard is most suitable for a particular application. In addition, for the first time ever, the booth offered hourly standards tutorials during all three show days, as well as a live introduction on the features of the individual standards. The group also offered a series of presentations related to international machine vision standards during the Industrial Vision Days presentations.
Earlier this year, the same organizations collaborated on the first ever Global Machine Vision Interface Standards brochure, which contains detailed explanations of vision industry standards, specifications on hardware and software interface standards, and a comparison chart, which can be used to guide the selection of the most appropriate standard for an application.

View the VDMA press release.
Share your vision-related news by contacting James Carroll, Senior Web Editor, Vision Systems Design
To receive news like this in your inbox, click here.
Join our LinkedIn group | Like us on Facebook | Follow us on Twitter | Check us out on Google +