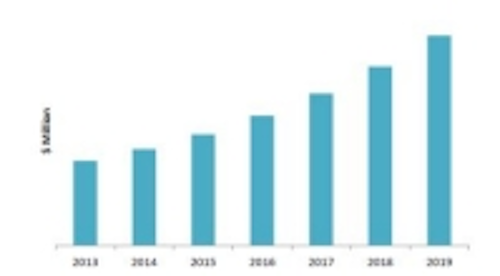 A new market analysis and forecast report by IndustryARC predicts that the global market for infrared sensors will grow from approximately $184 million in 2013 to about $455 million in 2018, at a compound annual growth rate (CAGR) of 20%.
The report classifies the infrared sensors by range: Near infrared (NIR), shortwave infrared (SWIR), mid-wave infrared (MWIR), and long wave infrared (LWIR), as well as types, which include passive infrared, thermopile, pyro-electric, microbolometer, and photo reflector. In addition, it separates the infrared sensors by application, which includes automotive, healthcare, semiconductors, telecommunications, military and defense, security, telecommunications, and manufacturing.
Increasing demand for home automation products, the growth of the process automation industry, and usage in wireless communication are identified as main drivers of growth for the IR sensor market in the report. In addition, gesture recognition is another emerging market segment in the gaming market, which also has high growth potential for IR sensors. For example, near infrared LEDs are used for 3D range cameras (Microsoft Kinect, for example) for resolving distance using time of flight technology in combination with image sensors.
Technologies such as this, as well as automotive telematics and driver assistance systems represent additional growth and potential new revenue streams for IR sensors.
Prominent players in the infrared imaging market, as identified in the report, include, but are not limited to: FLIR, DRS Technologies, Teledyne DALSA, Axis Communications, Fluke Corporation, Qioptiq ltd., Raytheon, Samsung Techwin, UTC Aerospace Systems, Hamamatsu, OMRON, and Panasonic.
Though the numbers and projected CAGR don't line up, this projected growth is echoed in a similar research report released in April by MarketsandMarkets. In this report, the firm predicted that global sales in the infrared (IR) detector market are predicted to grow from $321.4 million in 2014 to $704.8 million in 2020, at an estimated compound annual growth rate (CAGR) of 11.9%. This report cited rising security concern, a growth in demand of contact-less temperature measurement, and motion sensing in consumer electronics applications as the highest revenue generators.
View more information on the IndustryARCreport.
View more information on the MarketsandMarkets report.
Also check out:
(Slideshow) Six different ways infrared imaging technology is being used
Video interview: Industry expert discusses 360° vision for intelligent transportation systems
Global expansion aids record-setting 2013 for German machine vision market
Share your vision-related news by contacting James Carroll, Senior Web Editor, Vision Systems Design
To receive news like this in your inbox, click here.
Join our LinkedIn group | Like us on Facebook | Follow us on Twitter | Check us out on Google +