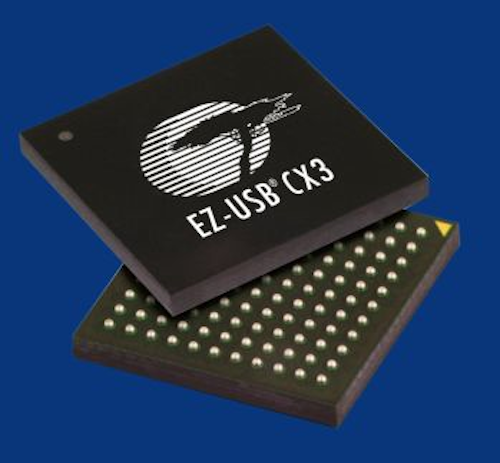 R42 3D light field cameras, which feature a 40 MPixel CMOS image sensor, will leverage an EZ-USB CX3 camera controller to provide 3D images with extended depth of field.
The new R42 3D light field camera from Raytrix supports up to 40 MPixel resolution with a 2/3" rolling shutter CMOS sensor with a 1.1 µm pixel pitch. The camera achieves a frame rate of greater than 6 fps at full resolution and greater than 30 fps at 4K resolution at up to 7m with a USB 3.0 cable. For 3D imaging, the cameras feature 3D light field image sensors. These cameras, which are suitable for use in machine vision, motion tracking, and surface inspection applications, will use an EZ-USB CX3 USB 3.0 camera controller to deliver 5 Gbps performance.
The EZ-USB CX3 USB 3.0 programmable camera controller enables developers to add USB 3.0 connectivity to any image sensors supporting the Mobile Industry Processor Interface (MIPI) Camera Serial Interface Type 2 (CSI-2) standard. CX3 is capable of streaming uncompressed video at 1080p at 30 fps or 720p at 60 fps. The controller also supports many image formats, including RAW8/10/12/14, YUV422 (CCIR/ITU 8/10-bit), and RGB888/666/565. The CX3 provides 200 MIPS of computational power for on-chip image data processing.
In addition, the CX3 is supported by the new Denebola reference design kit from e-con Systems, which accelerates time to market for HD cameras with a ready-for-production reference board that leverages CX's USB 3.0 performance to process large image files and stream HD video without compression.
"The EZ-USB CX3 USB 3.0 controller delivered exactly what we needed for the R42 camera," said Dr. Lennart Wietzke, founder of Ratrix GmbH in a press release. "CX3's SuperSpeed USB 3.0 performance enables the R42 to provide images with unparalleled 3-D depth. And the unique EZ-USB flexibility, along with the strong technical support from Cypress, shortened our design cycle."
View the press release.
Also check out:
USB standard looks to increase performance
(Slideshow) Six unique ways 3D imaging helped solve problems
VDMA: European machine vision industry to grow 12% in 2014
Share your vision-related news by contacting James Carroll, Senior Web Editor, Vision Systems Design
To receive news like this in your inbox, click here.
Join our LinkedIn group | Like us on Facebook | Follow us on Twitter | Check us out on Google +