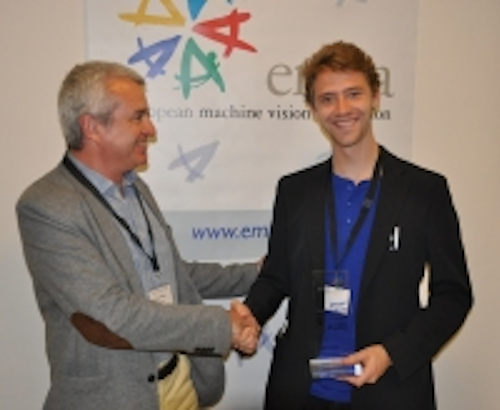 At the organization's annual Business Conference in Vienna, Austria, the EMVA elected two new members to its Board of Directors and announced the winner of the 2014 EMVA Young Professional Award, which honors the innovative work of a student or young professional in the field of machine vision or image processing.
During the Business Conference's General Assembly on May 15, the EMVA elected Jean Caron and Michel Ollivier into the EMVA Board of Directors. Caron is Vice President of Sales and Support, Machine Vision Components, at Euresys and Olliver is a member of the Executive Board at TIAMA Group who is responsible for TIAMA's research and development activities.
The EMVA also gave out its 2014 Young Professional award to Jakob Engel, a 27-year old PhD Student in the Computer Vision Group at the Technical University of Munich, Germany. Engel received the award for his novel approach to real-time visual odometry for a monocular camera. He developed a semi-dense method for estimating the 3D movement of a monocular camera from recorded video while simultaneously estimating the 3D structure of a given environment, according to the EMVA.
In addition, it was announced at the 13th EMVA Business Conference will take place in the Spring of 2015 in Athens, Greece.
Pictured: 2014 Young Professional award winner Jakob Engel with Toni Ventura, EMVA president

Visit the EMVA website.
Also check out:
EMVA Business Conference to highlight machine vision industry and economic outlook
AUTOMATICA 2014: Innovations in automation and robotics
Live updates from the AIA Business Conference
Share your vision-related news by contacting James Carroll, Senior Web Editor, Vision Systems Design
To receive news like this in your inbox, click here.
Join our LinkedIn group | Like us on Facebook | Follow us on Twitter | Check us out on Google +