Inspection lens from Schneider-Kreuznach supports 16k linescan cameras
Xenon-sapphire lenses from Schneider-Kreuznach are designed for the web and surface inspections of flat-panel displays and printed circuit boards.

Mar 14th, 2012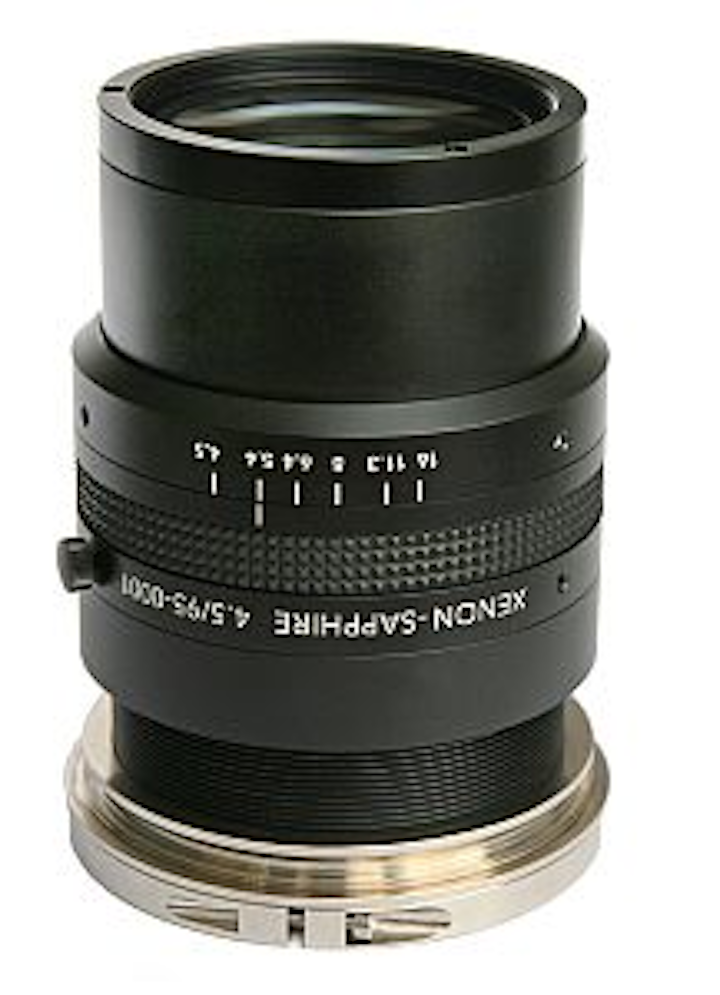 Xenon-sapphire lenses are designed for the web and surface inspections of flat-panel displays and printed circuit boards. Designed especially for 16k linescan cameras, they are optimized for the sensor's 3.5-μm pixel size. They include a coating for 400–1000 nm. The aperture setting can be locked to deal with strong vibrations.
Schneider-Kreuznach
Stuttgart, Germany
-- Posted by Vision Systems Design

View More Vision+Automation Products

Locate a vendor or system integrator in our Online Buyer's Guide

---
NEW PRODUCT PRESS RELEASE
Xenon-Sapphire: New 16k line scan lenses from SCHNEIDER KREUZNACH
BAD KREUZNACH
Schneider-Kreuznach has released its Xenon-Sapphire special lens. This lens series is designed for the highest requirements of web and surface inspections, and is the first choice for FPD and PCB inspection systems. These applications require line scan lenses with very high resolution in order to guarantee cost-efficient error detection in manufacturing and associated quality assurance processes.
When using high resolution cameras, the lens is often the limiting factor in the full utilisation of the theoretically possible system performance. The Xenon-Sapphire lenses were specially developed for use with new 16k line scan sensors. In their optical magnification range, they fully exploit all the possibilities of the very latest sensor generation.
Designed especially for 16k line scan cameras, they have excellent optical and mechanical properties. The high resolution of the lenses makes full use of the sensor's 3.5 μm pixel size. Their excellent coating in the range from 400 to 1000 nm ensures optimal luminous efficacy. Precision mechanics and special mounting technology minimise loss of contrast due to manufacturing tolerances. To further improve contrast, the best azimuth can be set using the industrial-grade V78 interface. The aperture setting is lockable in order to ensure high imaging performance even in the presence of strong vibrations.
Visit our website at www.schneiderkreuznach.com.
Industrial Optics business area:
Jos. Schneider Optische Werke GmbH designs, manufactures and markets optical and precision components and assemblies for machine vision and other image processing applications. Our high-quality optical solutions for image processing help system integrators and machine manufacturers improve their image processing systems.
About the Schneider Group:
The Schneider Group specializes in developing and producing high-performance photographic lenses, cinema projection lenses, as well as industrial optics and precision mechanics. The group comprises Jos. Schneider Optische Werke, founded in Bad Kreuznach in 1913, and its subsidiaries Pentacon (Dresden), ISK Optics GmbH (Göttingen), Schneider-Optics (New York, Los Angeles), Schneider Bando (Seoul), Schneider Asia Pacific (Hong Kong) and Schneider Optical Technologies (Shenzhen). The company's main brand is "Schneider-Kreuznach". It has around 660 employees worldwide, with 360 based in its German headquarters. For years now the group has been a world market leader in the area of high-performance lenses.
SOURCE: Schneider-Kreuznach