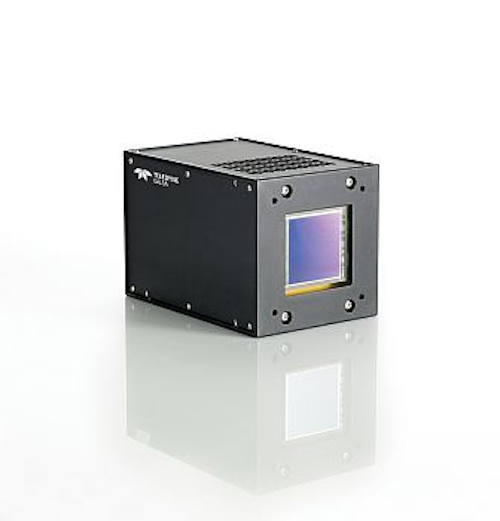 The large-format, low-light-imaging QuantaPro 2K CCD camera is designed to support astronomical, scientific, and medical imaging. The front-illuminated device enables peak quantum efficiency (QE) of 70%, with a reduced cost compared to back-illuminated technology. The single-output format runs at 10 MHz, allowing higher frame rates without multi-output tap matching. Linear 16-bit digitization provides dynamic range to 10,000:1 (80 dB). The camera uses a GigE interface for data transfer.
Teledyne DALSA
Waterloo, ON, Canada
-- Posted by Vision Systems Design

---
NEW PRODUCT PRESS RELEASE
Teledyne DALSA Unveils QuantaPro 2K Camera
WATERLOO, Ontario - Teledyne DALSA, a Teledyne Technologies company and a global leader in digital image sensing technology, unveiled its large format low light imaging CCD camera, the QuantaPro 2K. The CCD camera is ideal for astronomical, scientific, and medical imaging.
"The new QuantaPro 2K is an affordable solution for a range of scientific applications," said Behnam Rashidian, Senior Product Manager at Teledyne DALSA. "With its high sensitivity thermoelectric cooled full frame technology, the camera is designed for low light conditions and long integration times."
Offering an economical solution through the use of a front illuminated device, the quantum efficiency (QE) approaches that of back illumination, reaching a peak QE of 70%. In addition, the single output format running at 10MHz allows for higher frame rates without the complications of multi-output tap matching.
Features and benefits of the QuantaPro 2K include:
* Internal cooling to -35C with anti fog feature
* Large 5cm x 5 cm format with highly sensitive 24u pixels
* GigE interface for convenience
* Single output architecture
* Low readout noise and dark current
* No allowed column defects
* Dark current reaches 0.1 e / pix / sec at -35oC
* Linear 16 bit digitization provides dynamic range to 10000:1 (80dB)
About Teledyne DALSA, Inc.
Teledyne DALSA, a Teledyne Technologies company, is an international leader in high performance digital imaging and semiconductors with approximately 1,000 employees worldwide, headquartered in Waterloo, Ontario, Canada. Established in 1980, the company designs, develops, manufactures and markets digital imaging products and solutions, in addition to providing MEMS products and services.
SOURCE: Teledyne DALSA