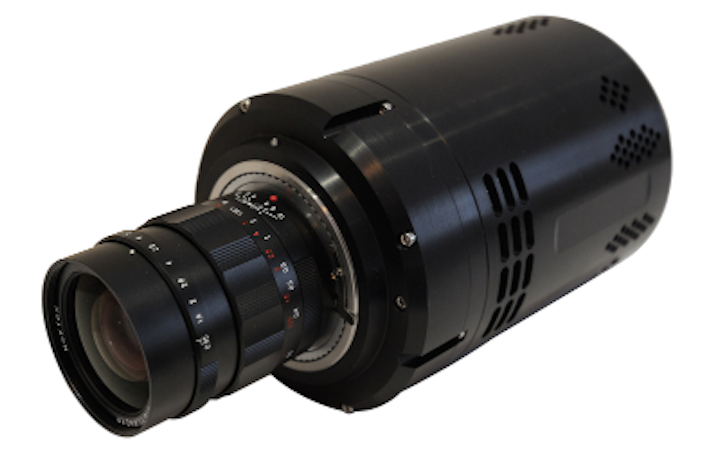 Photonic Science's 16 MPixel scientific CMOS (sCMOS) camera features 4096 x 4096 with 9 µm pixels, 4.5 fps at full resolution, readout noise of < 4e rms, and QE > 70% at 650 nm, and according to the manufacturer is appropriate for photoluminescence, fluorescence lifetime detection, confocal microscopy imaging, and astronomy.
The new camera is also available as an indirect X-ray camera with GdOS / Tb or structured CsI scintillator, for operations from 1 KeV up to 300 KeV. Photonic Science says the new camera is appropriate for X-ray applications including radiography, PCB testing, coherent diffraction imaging, and phase contrast imaging.
For deep UV applications, the camera can also be supplied with a backside illuminated sensor. The new camera has Camera Link and GigE interfaces and an F-Mount optical interface.

To Learn More:
Contact: Photonic Science
Headquarters: Saint Leonards-on-sea, United Kingdom
Product: 16 MPixel sCMOS camera
Key Features: 4096 x 4096 with 9 µm pixels, 4.5 fps at full resolution, < 4e rms, QE > 70% at 650 nm.
What Photonic Science says:
View more information on the 16 MPixel sCMOS camera.
Related stories:
sCMOS cameras target scientific applications
CMOS imagers look to increase dynamic range
Future architectures for CMOS image sensors
Share your vision-related news by contacting Dennis Scimeca,Associate Editor, Vision Systems Design
To receive news like this in your inbox, click here.