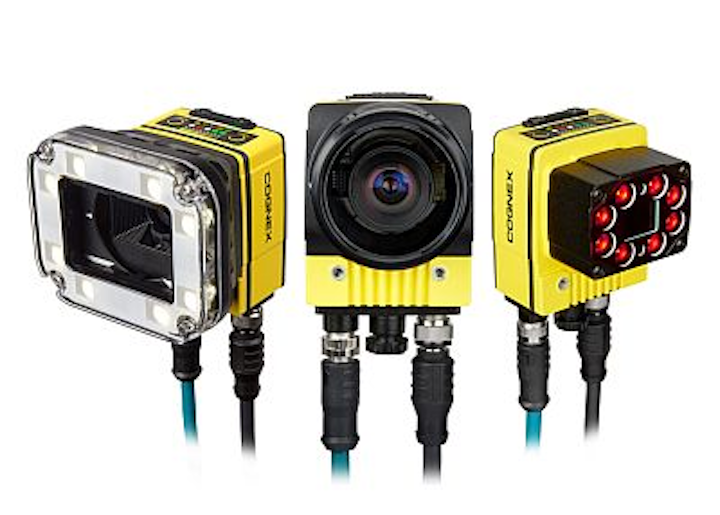 Second generation In-Sight 7000 vision systems from Cognex feature a modular design offers more than 400 different field configurations and a variety of field-changeable and user-configurable lighting and optics. The systems are available in four different models: In-Sight 7600 (640 x 480 sensor, 217 fps), In-Sight 7800 (800 x 600, 165 fps), In-Sight 7801 (1280 x 1024, 76 fps), and the In-Sight 7802 (1600 x 1200, 53 fps), all of which feature C-Mount, S-Mount, and autofocus lens types. The vision systems also feature IP-67 protective housing, Cognex Flexible Image Technology—which optimizes image formation and minimizes the need for expensive external lighting—as well as a pending LED ring light that produces even, diffused illumination across the entire image, eliminating the need for costly external lighting.
Additionally, like all Cognex In-Sight vision systems, the Sight 7000 uses In-Sight Explorer to set up and monitor machine vision inspections. In-Sight Explorer features the EasyBuilder interface for setup, and vision tools such as PatMax RedLine pattern matching technology, OCRMax optical character recognition and SurfaceFX feature extraction technology.
To Learn More:

Contact:Cognex Corporation
Headquarters: Natick, MA, USA
Product: In-Sight 7000 vision systems
Key Features: Four different models with varying sensor size and speed, modular design, changeable optics and lighting, PatMat RedLine, OCRMax, and SurfaceFX vision tools.
What Cognex says:
View more information on the In-Sight 7000 series.

View More Products| Locate a vendor or system integrator | Receive e-mail updates
Share new products that you think are particularly interesting or helpful by contacting James Carroll, Senior Web Editor, Vision Systems Design.
Join our LinkedIn group | Like us on Facebook | Follow us on Twitter
Learn more: search the Vision Systems Design Buyer's Guide for companies, new products, press releases, and videos