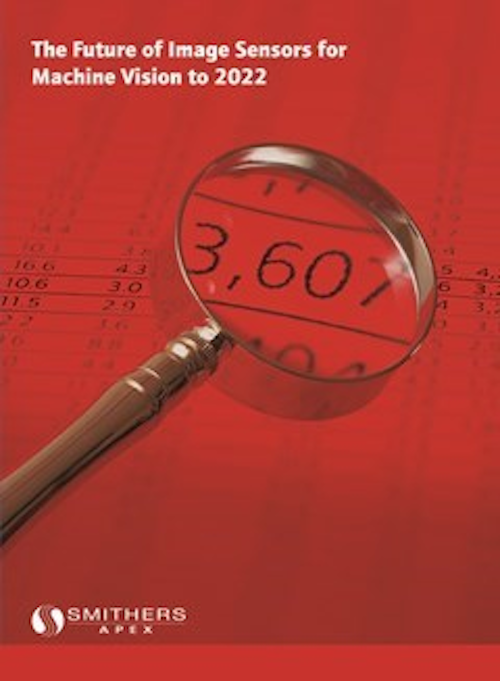 In the year 2022, the global image sensor market will ship close to 4.1 million units worth $294 million, according to a new report from Smithers Apex.
The report, The Future of Image Sensors for Machine Vision to 2022, finds that the volume of image sensors used in machine vision applications shows a compound annual growth rate (CAGR) of 12.3%.
"Industry experts agree that the market growth of image sensors is driven by performance, technologies and applications rather than by price, since the image sensor itself is often not the cost driver of machine vision systems," said Ronald Müller, report author. "The digitization of the image signal and pre-processing on the sensor influence the complexity and costs of the camera. Yet the positive or negative evaluation of the business case of an image processing system is not dependent on the price of the image sensor in most cases."
Smithers Apex notes that the trend of image sensor prices is driven by the shift away from CCD image sensors to CMOS image sensors.
"The victory march of CMOS global shutter sensors has already begun," notes that report.
In the future, CMOS sensors will likely eradicate low-end CCD sensors from the market as a result of better performance and lower pricing, while also driving high-end CCD sensors into niches, where they can still perform CMOS sensors.
The United States and Canada are expected to contribute largely to the overall increased use of sensors, particularly in 2019, as both countries—particularly the United States—continue to utilize more and more machine vision in industry. In Europe, according to Smithers Apex, the area is still struggling with "imminent state insolvencies and the growing need for connected embedded vision solutions, a strong domain of US players."
Machine vision camera OEMs and sensor integrators will be putting pressure on both the domestic and global market, leading a massive growth in their usage of sensors, according to the report.
View more information on the report.
Share your vision-related news by contacting James Carroll, Senior Web Editor, Vision Systems Design

To receive news like this in your inbox, click here.
Join our LinkedIn group | Like us on Facebook | Follow us on Twitter
Learn more: search the Vision Systems Design Buyer's Guide for companies, new products, press releases, and videos