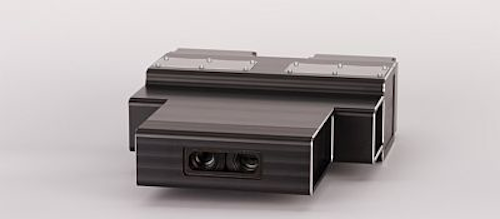 Backed by European private equity fund Ambienta, Lakesight Technologies Holding has announced the acquisition of German machine vision company Chromasens, a developer of line scan cameras, among other technologies.
Based in Munich, Germany, Lakesight is a buy-and-build platform in the machine vision sector. Chromasens is the third machine vision company to join the Lakesight group, with Tattile (Mairano Italy) and Mikrotron (Unterschleißheim, Germany) having been acquired in 2012 and 2015, respectively. Chromasens is based in Konstanz, Germany, and develops cameras, lighting, and custom imaging solutions. Recent products include the 3DPIXAcameras (pictured), which are stereo line scan cameras with either single or double tri-linear CCD sensors with a 10 µm pixel size and a line rate of up to 60 kHz, as well as the truePIXA multispectral line scan cameras, which feature tri-linear CCD line scan sensors with a 10 µm pixel size and a line rate of up to 50.8 kHz.
With approximately 60 employees—most of which are in research and development—Chromasens most recently reported sales of more than $11 million (USD, approximately). The company was established in 2004 because of a management buyout from Ocè Group led by the current managing directors Markus Schnitzlein and Martin Hund. Both managers have been reconfirmed in their positions.
"We are pleased to join Lakesight which we see as a strong partner that can sustain Chromasens in our next phase of development," said Schnitzlein.
Martin Hund, Managing Director of Chromasens, added: "As part of Lakesight we will continue our growth path through investment in new technologies, developing projects with blue-chip customers and expanding our international sales leveraging Lakesight's resources and sales network."
With the acquisition, Lakesight adds a complementary portfolio of line scan machine vision cameras and access to 3D and multispectral cameras.
"The acquisition of Chromasens is a further step towards the creation of a global leading platform in the machine vision sector which represents a pillar in the technological revolution of industry 4.0, with relevant scale, global reach and a diversified product portfolio," said Mauro Roversi, Partner and Chief Investment Officer at Ambienta.
View more information on Chromasens
View more information on Lakesight.
Share your vision-related news by contacting James Carroll, Senior Web Editor, Vision Systems Design

To receive news like this in your inbox, click here.
Join our LinkedIn group | Like us on Facebook | Follow us on Twitter
Learn more: search the Vision Systems Design Buyer's Guide for companies, new products, press releases, and videos