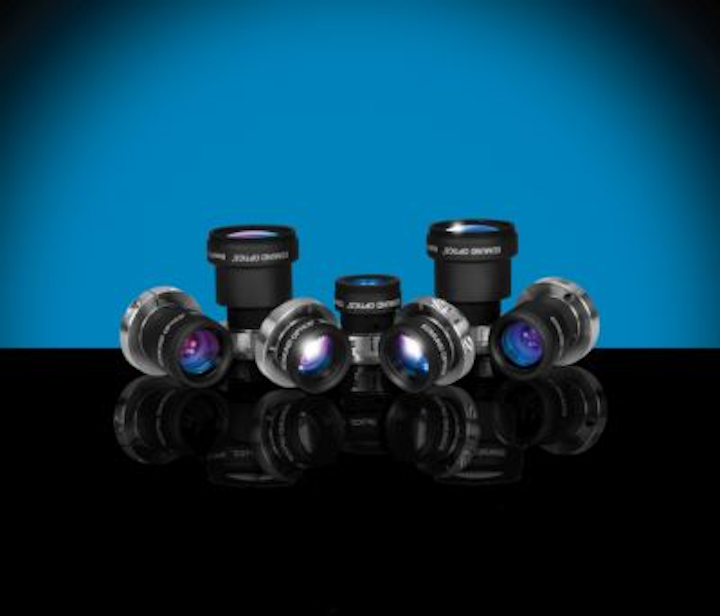 At SPIE Photonics West 2018, Edmund Optics will showcase its TECHSPEC Compact ruggedized (CR) Series fixed focal length lenses, which are designed to maintain optical pointing and positioning in harsh environments that involve vibration, shock, and changing temperatures. Available in 6, 8.5, 12, 16, 25, 35, and 50 mm focal lengths, the lenses feature robust mechanics and a stainless-steel locking C-Mount clamp. Individual lens elements are glued in place inside the barrel to prevent lens element decenter during shock and vibration. Additionally, pixel shift is reduced, thereby eliminating object shift on the image and ensuring that the object to image mapping remains constant. A point on the object will always map to the same point on the image even after the lens has been heavily vibrated or shocked, according to Edmund Optics.

SPIE Photonics West 2018 booth number: 823
To Learn More:
Contact: Edmund Optics
Headquarters: Barrington, NJ, USA
Product: TECHSPEC CR Series fixed focal length lenses
Key Features: Available in 6, 8.5, 12, 16, 25, 35, and 50 mm focal lengths, C-Mount lens mount, ruggedized design.

What Edmund Optics says:
View more information on TECHSPEC CR series lenses.

View More Products| Locate a vendor or system integrator | Receive e-mail updates
Share your vision-related news by contacting James Carroll, Senior Web Editor, Vision Systems Design

To receive news like this in your inbox, click here.
Join our LinkedIn group | Like us on Facebook | Follow us on Twitter