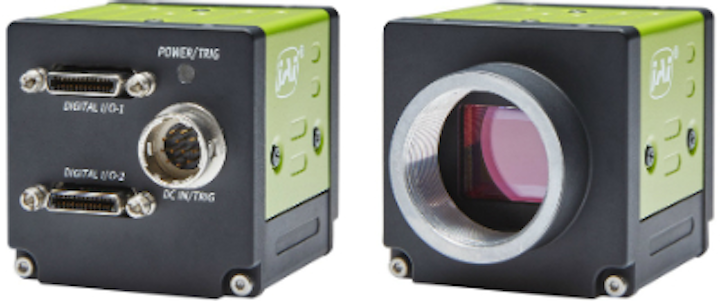 JAI's SP-12400-PMCL area scan 12.4MPixel camera, part of the company's Spark series of cameras, is almost seven times faster than the SP-12401-PGE model released in July. The SP-12400-PMCL is built around the Sony Pregius IMX253 CMOS image sensor which enables the marked increase in speed, a maximum 64.6 fps capture rate for full resolution 8-bit images.
JAI offers monochrome and color models of the new camera, the SP-12400M-PMCL and SP-12400C-PMCL respectively. The SP-12400M offers 8-bit, 10-bit, or 12-bit monochrome output. The SP-1200C offers 8-bit, 10-bit, or 12-bit raw Bayer output. Both cameras employ region-of-interest functionality allowing users to define output resolution up to 4112 x 3008 pixels.
The SP-12400-PMCL cameras feature a 3.45µm pixel size and a noise of rating of less than 6 e-. They are 44 x 44 x 44mm in size, have an 80 G shock rating, and a 10 G vibration rating. Both cameras support base, medium, full, and 80-bit configurations via a high-performance Camera Link interface that features mini-sized connectors which can accept power from some frame grabbers. Power can otherwise be supplied via a 12-pin connector.
The cameras have a Reset Continuous Trigger exposure mode that allows the cameras to wait for a trigger pulse before outputting frames, and support C-mount lenses with a 1.1-inch optical format. According to JAI, the SP-12400-PMCL series of cameras are particularly useful for traffic and surveillance, life sciences, and robotics.

To Learn More:
Contact: JAI
Headquarters: San Jose, CA, USA
Product: SP-12400-PMCL camera
Key Features: Maximum 64.6fps capture rate for full resolution 8-bit images, 3.45µm pixel size, 6 e- noise rating, 80 G shock rating, 10 G vibration rating, C-mount lenses with 1.1-inch optical format

What JAI says:
View more information on the SP-12400M-PMCL and SP-12400C-PMCL cameras

View More Products| Locate a vendor or system integrator | Receive e-mail updates
Share your vision-related news by contacting Dennis Scimeca, Associate Editor, Vision Systems Design