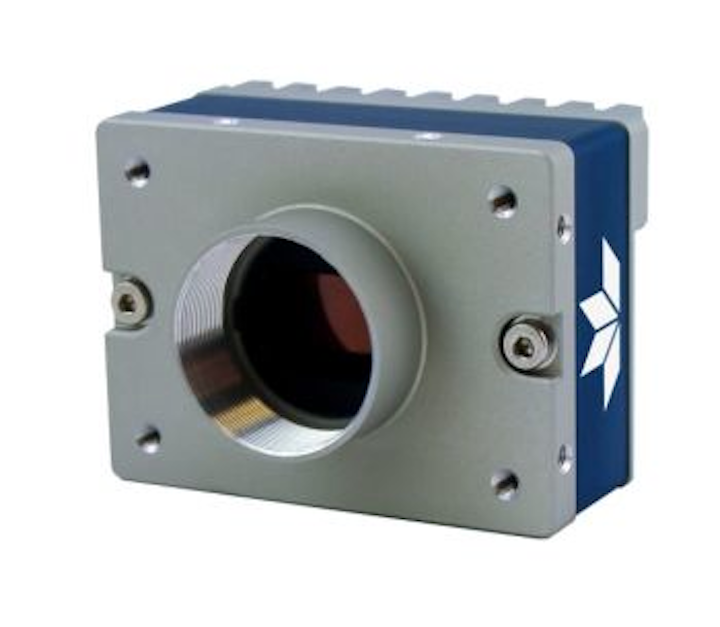 At VISION 2018 in Stuttgart, Germany, Teledyne DALSA will showcase a host of new machine visioncamera products, including a 5GigE area camera, a multi-line CMOS line scan camera, and a multi-array CMOS TDI camera. The new Linea ML 8k and 16k cameras are available in color and monochrome and offer monochrome/HDR, color, multispectral, and polarization imaging capabilities. The multi-line CMOS cameras offer independent start and stop of integration for each array, enabling versatile illumination configurations in a single scan using pulsed LED lighting technologies, according to the company.
Teledyne DALSA's Linea HS 16k camera is based on the latest charge domain CMOS TDI technology and has a multi-array TDI sensor to enable high-speed, multi-field imaging where brightfield, darkfield, and backlit images can be captured in a single scan. Both the Linea ML and HS run at a maximum line rate of 300 kHz with a Camera Link HS interface using fiber optic cables.
Lastly, the Genie Nano camera series is expanding to include eight new 5 Gigabit Ethernet models that are built around CMOS image sensors from Sony. These monochrome and color 5GBASE-T cameras offer sensor sizes from 3.2 MPixels to 12 MPixels and Teledyne DALSA's TurboDrive technology.
VISION 2018 booth number: Hall 1, Booth 1F62

To Learn More

Contact: Teledyne DALSA
Headquarters: Waterloo, ON, Canada
Products: Linea ML 8k camera and 16k cameras, Linea HS 16k camera, and Genie Nano 5GigE cameras.

What Teledyne DALSA says:
View more information on the 5GigE cameras.
View more information on Linea cameras.

View More Products| Locate a vendor or system integrator | Receive e-mail updates

Share new products that you think are particularly interesting or helpful by contacting James Carroll, Senior Web Editor, Vision Systems Design.
Share your vision-related news by contacting James Carroll, Senior Web Editor, Vision Systems Design

To receive news like this in your inbox, click here.
Join our LinkedIn group | Like us on Facebook | Follow us on Twitter