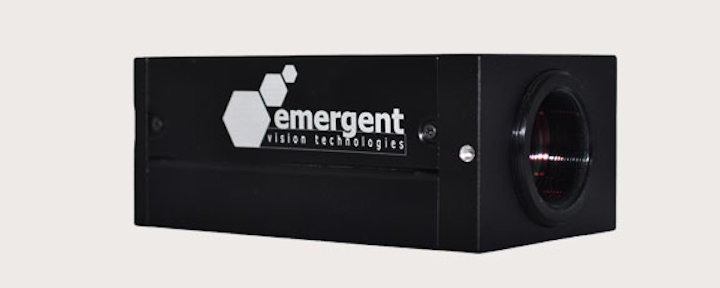 At VISION 2018in Stuttgart, Germany; Emergent Vision Technologies will introduce new 25GigEcameras. Featuring a high-speed 25GigE interface, the cameras will be available in eight models, with the following Sony image sensors and frame rates: IMX367 (19.5 MPixel, 43 fps), IMX342 (31 MPixel, 35.4 fps), IMX387 (16.8 MPixel, 61 fps), IMX420 (7 MPixel, 207.1 fps), IMX421 (2.8 MPixel, 409.2 fps), IMX422 (2 MPixel, 477.5 fps), IMX425 (1.76 MPixel, 662.1 fps), and IMX426 (0.5 MPixel, 1594.7 fps). 25GigE—like 10GigE—is a cross-industry standard managed and produced by the IEEE 802.3 working group.
Additionally, Emergent Vision Technologies will showcase its new ACCEL series of 25GigE line scan cameras, which feature 8K line scan CMOS image sensors from Teledyne e2v while achieving rates of 200 KHz (single line), 100 KHz (bilinear), and 66 KHz (trilinear).
VISION 2018 booth number: Hall 1, Stand 1I15

To Learn More:
Contact:Emergent Vision Technologies
Headquarters: Maple Ridge, BC, Canada
Product: Bolt Series 25GigE cameras
Key Features: High-speed 25GigE interface, CMOS image sensors from Sony (0.5 MPixel to 31 MPixel models) GigE Vision and GenICam compliant (BOLT).
What Emergent Vision Technologies says:
View more information on the 25GigE cameras.

View More Products| Locate a vendor or system integrator | Receive e-mail updates
Share your vision-related news by contacting James Carroll, Senior Web Editor, Vision Systems Design

To receive news like this in your inbox, click here.
Join our LinkedIn group | Like us on Facebook | Follow us on Twitter