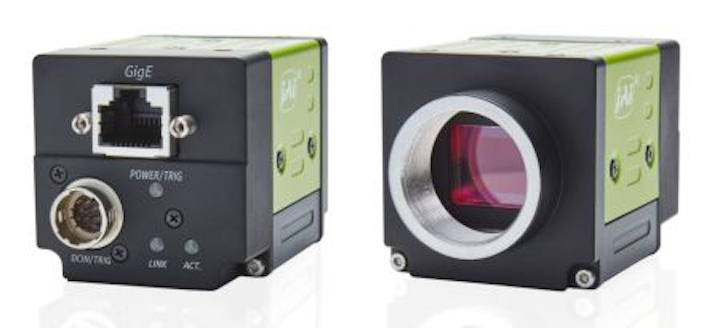 New to the Spark Series of area scan cameras from JAI are the SP-12401M-PGE (monochrome) and SP-12401C-PGE (color) cameras. The GigE Vision cameras are based on the 12.4 MPixel Sony Pregius IMX304 CMOS image sensor, which features a 3.45 µm pixel size and a dark noise rating of less than 2.5 electrons. The cameras acquire images at 9.3 fps for 8-bit monochrome or raw Bayer images at full resolution (4112 x 3008 for monochrome and 4088 x 3000 for color).
Both models are housed in a "second generation" enclosure that is considerably smaller than previous Spark Series cameras, measuring 44 x 44 x 54 mm with an 80 G shock rating and a 10 G vibration rating. Features of the new cameras include 24-bit and 32-bit in-camera interpolation using a 5 x 5 de-Bayering algorithm, a color enhancement function that "boosts" intensity for any six primary/complementary colors, and single region of interest (ROI) and multi-ROI capabilities.
To Learn More:

Contact: JAI
Headquarters: San Jose, CA, USA
Product: SP-12401-PGEGigE Vision cameras
Key Features: 12.4 MPixelSony Pregius IMX304 CMOS image sensor, GigE Vision interface, next generation enclosure, various camera functions.
What JAI says:
View more information on the color model.
View more information on the monochrome model.

View More Products| Locate a vendor or system integrator | Receive e-mail updates
Share your vision-related news by contacting James Carroll, Senior Web Editor, Vision Systems Design

To receive news like this in your inbox, click here.
Join our LinkedIn group | Like us on Facebook | Follow us on Twitter