Frame-grabber cards shrink imaging systems
By adding card-based frame grabbers to portable computers, systems developers are building smaller imaging systems.
Sep 1st, 2002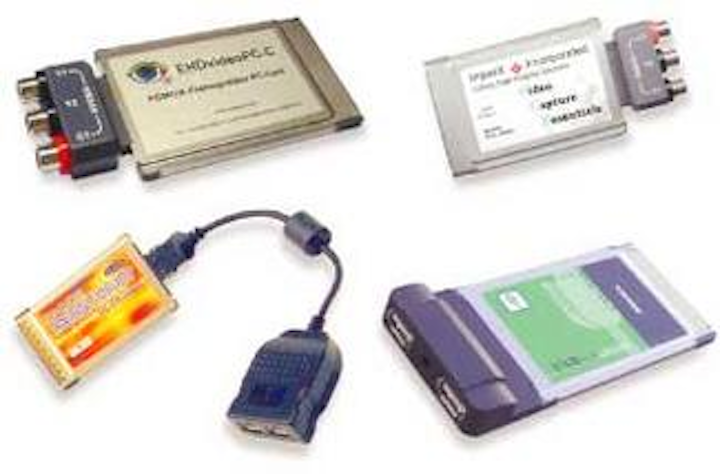 Personal-computer (PC) cards have evolved into credit-card-sized peripherals that add image-processing, bus-interfacing, memory, mass-storage, and I/O capabilities to computers in a rugged, compact form factor. In the past, these cards were known as PCMCIA cards, named after the Personal Computer Memory Card International Association (San Jose, CA), a nonprofit trade association and standards body that promotes PC-card technology along with miniature cards and smart media cards. Now, however, products based on this technology are known as PC cards, PC-card hosts, and PC-card software.
In 1990, the first release of the PCMCIA standard defined the 68-pin interface and the Type I and Type II PC-card form factors; there was no specification for I/O cards until Release 2.0, when the Type III card was defined. Each card type differs in its thickness: 3.3, 5.0, and 10.5 mm for Type I, II, and III, respectively. Each card type offers features for different applications. Whereas Type I PC cards are usually used for memory, Type II PC cards are used for I/O, and Type III cards are used for devices such as rotating mass-storage units.
In 1997, the PCMCIA introduced the CardBus standard to provide higher levels of performance than the 16-bit PC-card standard. Thirty-two-bit CardBus cards take advantage of internal bus speeds that are as much as four to six times faster than 16-bit PC cards, while still adopting the original PC-card form factor. Since CardBus performance attains the same performance as the system bus, 100-Mbit/s LAN, SCSI II, and video capture cards can be easily added to notebook computers. Like their 16-bit counterparts, CardBus PC cards support hot-swap and plug-and-play capabilities and nearly all 16-bit PC cards. However, because CardBus PC cards use a special keying mechanism, they cannot be inserted into systems that only support 16-bit PC cards.
Camera interfacing
When building a portable image-processing system, developers can choose from a number of frame grabbers and bus-based digital interfaces, all based around one or more PCMCIA standards. When choosing which standard to implement, developers should carefully consider the type of portable device used to host the system, their frame-transfer requirements, and the type of camera required to perform the image-processing function. Generally speaking, PCMCIA frame grabbers fall into two categories: those that digitize broadcast video signals such as NTSC (National Television System Committee), PAL (Phase Alternating Line), and SECAM (Sequential Couleur Avec Memoire), and those that interface to bus-based interfaces such as IEEE 1394 (FireWire) and Universal Serial Bus (USB) 2.0.
To interface to the number of broadcast standards used worldwide, systems developers can choose from a number of PCMCIA-based broadcast-compatible frame grabbers that accommodate NTSC, PAL, and SECAM standards. In the United States, the first color broadcast in 1953 was based on the NTSC standard, now used by many North American and Asian countries, including Japan. Indeed, the RS-170 standard, often used by vendors of machine-vision cameras, uses the monochrome picture component of NTSC. In the 1960s, the PAL standard was introduced and implemented by most European countries, except for France, which adopted the SECAM standard.
As a result of low-cost image-digitizer integrated circuits (ICs), such as the SAA7111A from Philips Semiconductors (Eindhoven, The Netherlands), a number of these broadcast formats can be digitized by single PCMCIA cards (see table). These include the VCE-B5A01 from ImperX (Boca Raton, FL), a plug-and-play PCMCIA video-capture card that allows developers to display, capture, store, and preview full-motion video on notebook computers. The VCE card can capture single-frame, multiple-video frames, and standard AVI clips from a variety of NTSC, PAL, or SECAM sources. In addition, a built-in capture-delay function enables users to program the card to record a sequence of frames at a later date and time.
The FG-30-II PCMCIA frame grabber from HaSoTec (Rostock, Germany) also can digitize PAL, SECAM, or NTSC signals and provides resolutions of up to 768 × 57 × 24 bits. The company recommends using the card with graphics controllers that support the DirectX application programming interface and operating systems such as Windows 2000. Although automatic gain control and black-level reference can be used, the card's manual gain-control mode is available. Software includes 16- and 32-bit drivers for the Ad Oculos image-processing development package from The Imaging Source (Charlotte, NC) and a Twain driver.
FireWire images
Apart from using standard broadcast formats, cameras also can interface to host computers using bus-based topologies such as IEEE 1394 (FireWire) and USB 2. In choosing the proper interface, designers must be aware of the different adapters, cable lengths, speeds, and prices involved in implementing each standard. To determine which interface best suits a machine-vision application, systems developers must carefully consider the benefits and limitations offered by each approach (see Vision Systems Design, July 2001, p. 47).
Currently, many PCMCIA cards accommodate both the IEEE 1394 and USB specifications. To define standard camera features and characteristics and how they should be implemented in an IEEE 1394 camera, the 1394 Trade Association (Grapevine, TX) issued the TA Digital Camera Specification (DCAM Spec). This specification allows manufacturers to add special features while essentially developing a "plug-and-play" standard. Other benefits include inexpensive standardized connectors, cables, and hubs, which help reduce the cost of a PCMCIA card to less than $100 and eliminate the need for a conventional frame grabber.
The FireWire CardBus Adapter from Belkin Components (Compton, CA) is typical of the latest-generation IEEE 1394 adapter cards. Containing two 400-Mbit/s FireWire ports, the card allows developers to capture digital video on portable computers and edit video sequences using supplied video-editing software. Requiring a 32-bit CardBus Type II slot, the card also requires a minimum of 64 Mbytes of RAM and an SVGA video card with at least 4 Mbytes of RAM. Orange Micro (Anaheim, CA) also offers a CardBus adapter dubbed the OrangeLink. With its two IEEE 1394 ports, the card features a 32-bit bus, 33-MHz operation, and data-transfer rates to 400 Mbits/s.
USB, too
Like the IEEE 1394 standard, the USB 2.0 interface standard has also spurred renewed interest among developers of video- and image-processing systems. At the recent USB Developer's Conference, Jason Ziller, USB-IF chairman and Intel Corp. (Santa Clara, CA) manager of technology initiatives, announced that video would be the "next big thing" in the advancement and adoption of USB 2.0.
The USB 2.0 standard increases the speed of the peripheral-to-PC connection from 12 Mbits/s (USB 1.1) to 480 Mbits/s, or 40 times faster than the previous technology. The higher bandwidth is a major performance advantage for such external peripherals as digital cameras, as well as portable applications, where multiple high-speed devices run simultaneously. Backward-compatible with USB 1.1, the USB 2.0 standard has already been adopted by a number of PCMCIA manufacturers, including Addonics (San Jose, CA), Evergreen Technologies (Corvallis, OR), Koutech Systems (Santa Fe Springs, CA), and IO Gear (Irvine, CA).
Several machine-vision vendors have taken up the USB 2.0 challenge. For example, Vision Systems Engineering (Kenmore, WA) has signed a contract to develop an interface for CTEC Photonics (Modesto, CA) that will transfer 1300 × 1024-pixel images at 30 frames/s over the USB 2.0 bus. According to David Baker, company president, the interface will be used on CTEC's megapixel CT-1000M CCD camera. which delivers 1.3 Mpixels, true 14-bit resolution, and four acquisition modes.
This year, the USB 2.0 standard should get a boost from the PCMCIA, which recently announced the fourth-generation standard for PC-card technology called CardBay. The CardBay PC-card standard incorporates the USB standard into the PC-card format and enables plug-in functions to become integrated within notebook computers.
The CardBay standard complements the existing PCI-based CardBus technology by allowing the same connector to bring the USB 2.0 serial interface into the PC-card form factor. CardBay supports backward compatibility to CardBus and legacy PC cards and requires no new software support. Specifications for CardBay are included in the PC Card Standard Release 8.0. Future extensions are being considered for optional support of the IEEE 1394 serial bus.
Andrew Wilson, Editor
---
Company Information
CTEC Photonics
Modesto, CA
www.ctecphotonics.com
Intel Corp.
Santa Clara, CA
www.intel.com
Personal Computer Memory Card International Association (PCMCIA)
San Jose, CA
www.pcmcia.org
Philips Semiconductors
Eindhoven, The Netherlands
www.philips.semiconductors.com
The Imaging Source
Charlotte, NC
www.theimagingsource.com
1394 Trade Association
Grapevine, TX
www.1394ta.org
Vision Systems Engineering
Kenmore, WA
www.vseltd.com