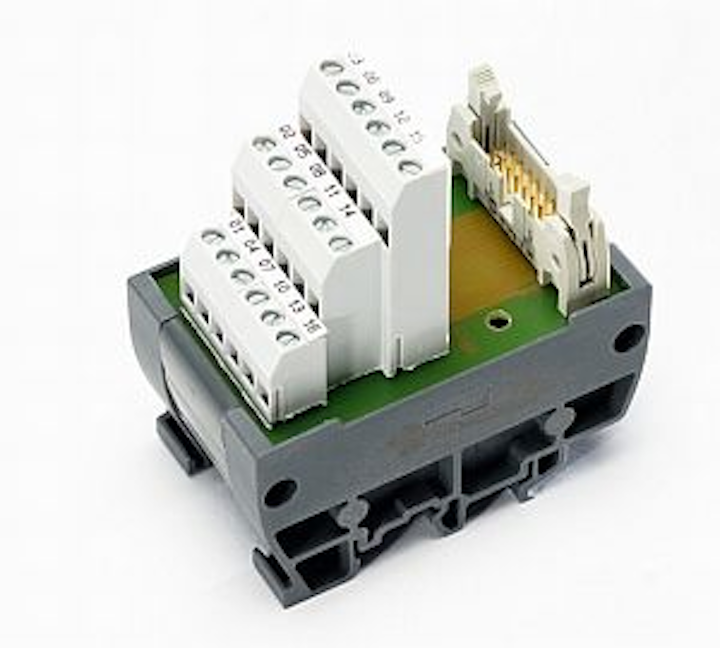 Development kits are available for layout of imaging systems using theKarbon, Neon-CLB, and Neon-CLQ frame grabbers. The new blocks are available in external 16-, 40-, and 60-pin D-sub configurations and feature standard industrial mounting capabilities. Each block configuration comes with a frame grabber-specific cable that carries signals from the board's connector to the terminal block. The 16-position block (IOB-DEV-C16-CLB) comes with a Neon-CLB cable; the 40-position block (IOB-DEV-C40) ships with a ribbon cable for Neon-CLD, as does the 60-position block (IOB-DEV-C60) for the Karbon and the Neon-CLQ.
BitFlow
Woburn, MA, USA
-- Posted byVision Systems Design

---
NEW PRODUCT PRESS RELEASE
BitFlow I/O Cables Simplify Development of Machine Vision Systems
WOBURN, MA -- BitFlow, a world leader in video frame grabber technologies for machine vision applications, today unveiled a new line of development products specifically designed to assist engineers in the layout and modeling of imaging systems employing the company's acclaimed Karbon, Neon-CLB and Neon-CLQ frame grabbers.
Based on a customer request, BitFlow was able to design and build these development kits to benefit the R & D Department of a major corporation. The most cost-effective approach to system development, the new blocks are available in external 16-pin, 40-pin and 60-pin D-sub configurations and feature standard industrial mounting capabilities. Each screw connector is labeled with a simple-to-read pin number to match a corresponding one referenced in the product manual, simplifying installation to multiple signals.
Each block configuration comes with a frame grabber-specific cable that carries signals from the grabber's connector to the terminal block. The 16-position block (IOB-DEV-C16-CLB) comes with a Neon-CLB cable; the 40-position block (IOB-DEV-C40) ships with a ribbon cable for Neon-CLD, as does the the 60-position block (IOB-DEV-C60) for the Karbon and the Neon-CLQ.
While these kits are aimed at R & D, it has been observed that, due to the DIN rail mounting capabilities of the blocks, some of these will end up in production models as well. The development kits can be accessed at http://www.bitflow.com/index.php/Cables.
For more information about BitFlow, please call 781-932-2900 or visit www.bitflow.com.
About BitFlow
BitFlow has been developing reliable, high-performance Frame Grabbers for use in imaging applications for the past 16 years. BitFlow is the leader in Camera Link frame grabbers, building the fastest frame grabbers in the world, with the highest camera/frame grabber densities, triggering performance, and price. With thousands of boards installed throughout the world, into hundreds of imaging applications, BitFlow is dedicated to using this knowledge and experience to provide customers with the best possible image acquisition and application development solutions. BitFlow, located in Woburn, MA, has distributors and resellers located all over the world including Asia, Japan, and Europe.
SOURCE:BitFlow