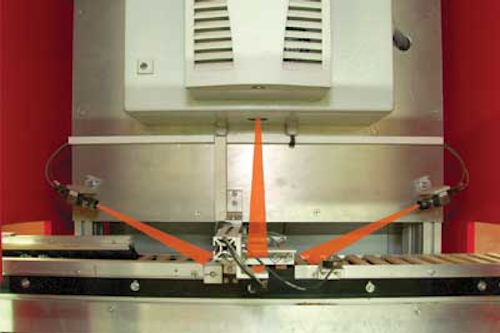 TheReinlein Parkett Company, a manufacturer of parquet flooring, stores enough wood in its facility for half a year's worth of production. After debarked trunks are sawed into planks, they are cut into 16 × 3-cm-wide parquet floor boards that must then be inspected for wood type and any defects that may be present.
In the past,determining the quality of the boards was a manual process. Three inspectors picked the parts from a conveyor belt and classified them into three different types depending on their quality. This was a time-consuming process that could not properly ensure that cracks in the endfaces or knot holes on the underside did not slip through undetected.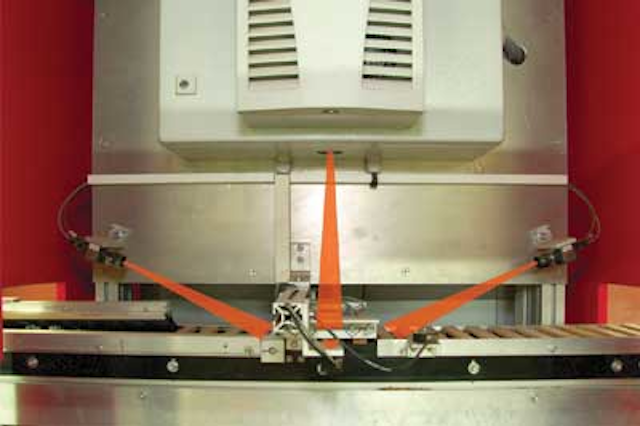 To improve the production quality of parquet wood pieces, a five-camera machine-vision system automatically checks pieces as they move along the conveyor at 10 pieces/sec.
To improve cycle rate and production quality, Reinlein Parkett enlistedATB Blank to install an Argus Spectra machine-vision system to automatically check each wooden piece as it moves along the conveyor (see figure). As the pieces move along the conveyor at a rate of 10 pieces/sec, an optoelectronic switch triggers five cameras as the wood enters the vision system. Illuminated with four white LED line lights, one color camera and four monochrome cameras capture an image of every piece.
Two UI-2230SE-M CCD cameras fromIDS Imaging monitor the long sides of each piece to detect any cracks that may be indistinguishable from the natural wood grain. The XGA sensors resolve details of the wood structure down to 0.16 mm using 1024 × 768-pixel CCD imagers. Similarly, the system uses two UI-1220SE-M CMOS cameras to image the short ends of the slats. A fifth USB uEye camera images the top surface of the wood.
Various criteria apply for different wood types, so each wood type must be checked using a different software program. To speed image processing, anarea of interest (AOI) within the field of view of each camera is confined to only regions of interest that will be transferred to the host computer. The customer can teach the system to classify new types of wood products using such terms as "exquisite," "natural," and "rustic." Using at least five thousand pieces of wood to teach a different wood type, the system learns to differentiate between wood types.
The detection of so-called "sapwood" is challenging. These parts are too soft for parquet flooring and are characterized by discoloration in the wood blocks. In addition to checking the color of the entire piece of wood, the ATB Blank system evaluates other criteria, such as the distribution and variation of color and the local arrangement of discoloration. Depending on the structure of discoloration, the presence of sapwood can be reliably determined. The system checks about 140,000 square meters of parquet annually, an area that corresponds to more than 20 football fields.
More Vision Systems Issue Articles
Vision Systems Articles Archives