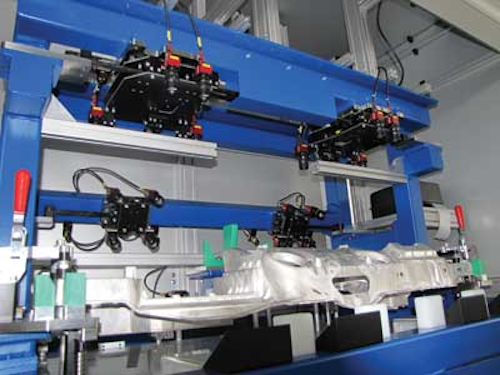 German automation specialist Ziemann & Urban (www.ziemann-urban.de) has developed a self-contained system to inspect instrument panel carrier frames for the Mini Countryman at BMW's factory in Landshut, Germany.
After being positioned and clamped in place inside the system, an instrument panel carrier frame is inspected automatically by no fewer than 26 cameras supplied by Allied Vision Technologies.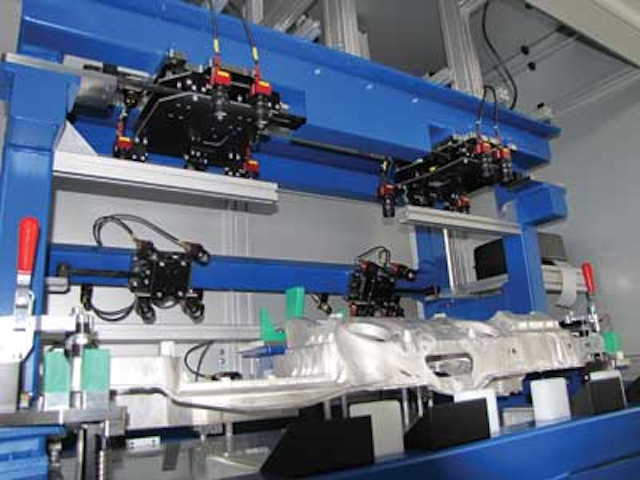 The position of attachment points on the instrument panels -- such as those for airbags and steering columns -- must be measured in three dimensions. To do so, two sets of eight Guppy F-033 monochrome cameras with VGA resolution and FireWire interfaces are used for the task -- eight for the left-hand drive versions and eight for the right-hand drive versions of the vehicles.
After a laser line has been projected onto the instrument panel, the reflected light is then captured by the cameras and used to geometrically reconstruct the shape of the assembly in three dimensions.
Six additional FireWire-based Stingray monochrome cameras with 1.25- to 5-Mpixel imagers are used to detect the presence of bore holes and openings. The bore holes are highlighted by a light box integrated into the fixture that illuminates the frame from below.
Four additional Guppy F-036 monochrome cameras inspect angular test points that are undetectable from above. The Guppy F-036 is also a VGA camera but differs from the model F-033 in its use of a CMOS sensor that supports a high-dynamic-range mode.
Captured images are evaluated on a PC with the aid of the ZVIS 4300 imaging system from Ziemann & Urban that assumes complete control of the measurement process, which takes place within 5 sec. The system can measure the instrument panels with a precision of approximately 25 µm, a figure which normally is achieved only in air-conditioned inspection rooms. Used at BMW's Landshut location since early 2010, the system checks several hundred instrument panel carriers each day.