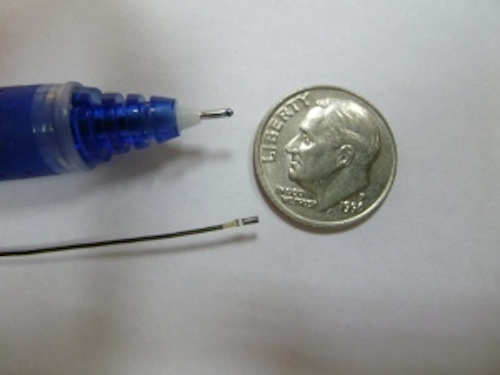 Medigus (Omer, Israel) announced that it has developed theworld's smallest video camera--0.99 mm in diameter--for disposable endoscopic devices used in body regions where larger scopes are not viable. Medical fields in which such tools are required include cardiology, orthopedics, gastroenterology, gynecology, otolaryngology, bronchoscopy, and robotic surgery.
The company says its new cameras will be integrated into endoscopic devices developed and manufactured by the company, and also sold to third-party medical device manufacturers. Medigus will begin supplying camera samples in the coming weeks to US and Japanese companies that produce cardiology-related devices. The miniature cameras offered by Medigus are supported by the company's digital video processing systems.
Adedicated 0.66 x 0.66-mm CMOS sensor provides high image resolution at 45,000 pixels. When manufactured and sold in large quantities, the costs are sufficiently low for the camera to be used in disposable devices, eliminating the need for costly, time-consuming, and potentially hazardous device sterilization.
"We are excited to release our second generation of disposable cameras to further progress the medical endoscopic field." said Dr. Elazar Sonnenschein, CEO for Medigus. The global miniature camera market for disposable endoscopic devices is estimated at 4 million units in 2011 and 7 million in 2015.
SOURCE:Medigus
Posted byVision Systems Design