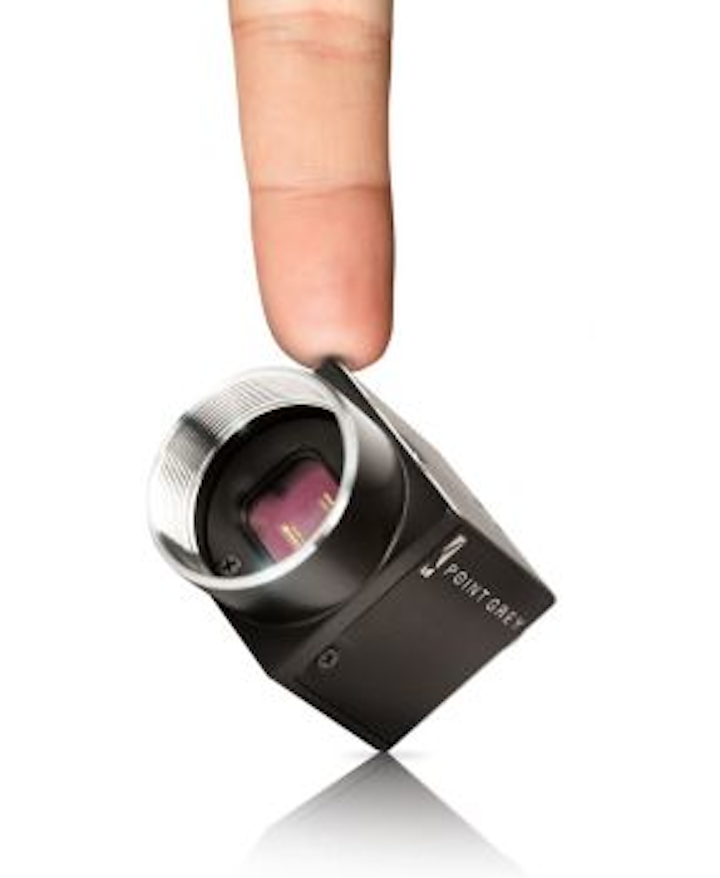 Flea3 FL3-GE-50S5 camera models are built around color and monochrome versions of the Sony ICX655 2/3-in. global shutter CCD sensor and are capable of streaming 2448 × 2048-pixel images at 8 frames/sec over Gigabit Ethernet. The 29 × 29 × 30-mm camera employs Sony CCDs ranging from VGA to 5 Mpixels; complies with GigE Vision 1.2; and supports software from Cognex, The MathWorks, Matrox, MVTec, NI, and Point Grey. Features include an eight-pin opto-isolated GPIO for industrial triggering and strobe output, 1-Mbyte nonvolatile flash memory for data storage; and on-camera frame buffer for retransmitting images.
Point Grey Research
Richmond, BC, Canada

-- Posted by Vision Systems Design

View More Vision+Automation Products

Locate a vendor or system integrator in our Online Buyer's Guide

---
NEW PRODUCT PRESS RELEASE
Point Grey Adds 5 Megapixel CCD Models to Flea3 Family of World's Smallest GigE Vision Cameras
Richmond, BC, Canada – Point Grey, a world-leading designer and manufacturer of digital cameras for industrial, scientific, and traffic applications, today announced the addition of new 5 megapixel models to its Flea3 GigE Vision digital camera line.
The new Flea3 FL3-GE-50S5 camera models are based on color and monochrome versions of the popular Sony ICX655 CCD and are capable of streaming high quality 2448 x 2048 images at 8 FPS over Gigabit Ethernet. The Flea3 measures just 29 x 29 x30 mm in size and offers a variety of the industry's most popular Sony CCDs, ranging from VGA to 5 MP. Like all Point Grey GigE cameras the Flea3 complies with version 1.2 of the GigE Vision specification, which allows the camera to work seamlessly with software from Cognex, Mathworks, Matrox, MVTec, and NI, as well as with Point Grey's own FlyCapture SDK.
The Flea3 offers a host of features unique in its class, including an 8-pin opto-isolated GPIO for industrial triggering and strobe output; 1 MB non-volatile flash memory for user data storage; and on-camera frame buffer for retransmitting images. Industry-leading pricing and best-in-class image quality make the new FL3-GE-50S5 models ideal for applications in 3D scanning, metrology, microscopy, medical, factory automation, and machine vision.
"The new 5 MP Flea3 offers an unbeatable combination of small size and high resolution," says Michael Gibbons, Director of Product Marketing at Point Grey. "The Flea3's small ice-cube form factor and GigE interface make it an ideal analog camera replacement, and because it uses a 2/3" global shutter Sony CCD the imaging performance is far superior to that of other 5 MP rolling shutter CMOS-based cameras."
The FL3-GE-50S5C/M-C color and monochrome models are list priced at $1995 and are available to order now from Point Grey, its network of distributors, and Point Grey's online web store (for North American customers). Further GigE Vision models are planned to be released within the next month.
About Point Grey
Point Grey Research, Inc. is a worldwide leader in the development of advanced digital camera technology products for machine vision, industrial imaging, computer vision, and traffic and surveillance applications. Based in Richmond, BC, Canada, Point Grey designs, manufactures and distributes USB 3.0, Gigabit Ethernet, IEEE-1394 (FireWire), and Camera Link cameras that are known for their excellent quality, performance, and ease of use. A broad range of hardware, software and mechanical engineering skills has allowed Point Grey to successfully bring many innovative and ground-breaking products to market. This drive for innovation has led to many industry firsts, including the world's first and smallest 1394b digital camera, the smallest GigE camera, and the first USB 3.0 machine vision camera.
Since its founding in January of 1997, the company's approach to product pricing, quality control, and customer service has attracted thousands of customers worldwide, and its organic growth through product sales has enabled the company to expand significantly without any outside investment. Point Grey currently employs more than 130 people worldwide and has a wholly-owned German subsidiary that provides sales and support services to customers in Europe, Africa and Israel. The company also has a strong network of distributors in Japan, Korea, China, Singapore, Taiwan and the United Kingdom.
SOURCE: Point Grey Research