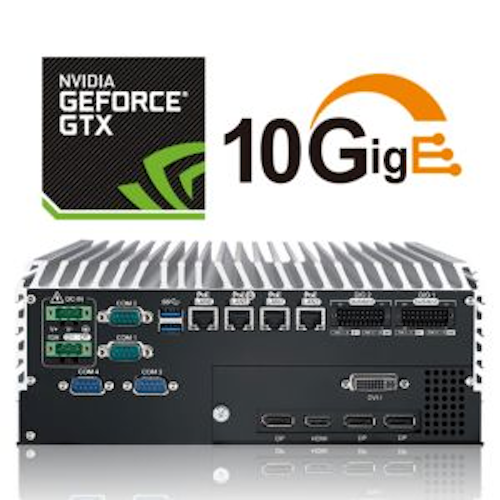 At Automate 2017, Vecow will showcase a range of its solutions developed for performance-driven machine vision applications, including its 10GigE series of embedded computers and 10GigE GPU computing systems. The 4-port ECS-9755 4-port RJ45 10 GigE embedded system and the ECS-9771 4-port 10GigE SFP+ embedded systems feature a Quad Core Intel Xeon/Core i7/i5 Processor (Skylake-H) with CM236 Chipset and 6 Independent GigE LAN with 4 IEEE 802.3at PoE+, iAMT 11.0 supported. Featuring two ports, the SPC-3055 RJ45 and SPC-3071 SFP+ 10 GigE systems feature the Intel Core i7/i5/i3 U-series SoC (Skylake-U) and 2 Independent GigE LAN, iAMT 11.0 supported.
Additionally, the company will showcase its 2-port 10 GigE CPU computing systems, the ECS-9755/9655 GTX950 2-port RJ45 system and the ECS-9771/9671 GTX950 2-port 10 GigE SFP+ system, all of which feature Quad Core Intel Xeon/Core i7 Processor (Skylake-H) with Intel CM236 & NVIDIA GeForce GTX 950, NVIDIA Pascal architecture, 6 GigE LAN with 4 PoE+ (ECS-9755 GTX950 and ECS-9771 GTX950), and 2 GigE LAN (ECS-9655 GTX950 and ECS-9671 GTX950).
Automate 2017 booth number: 2447
To Learn More:

Contact:Vecow
Headquarters: New Taipei City, Taiwan
Products: 10GigE embedded computers and 10 GigE GPU computing systems

What Vecow says:
View more information on the ECS-9755, ECS-9771, SPC-3055, SPC-3071, ECS-9755-9655, ECS-9771/9671 GTX950.

View More Products| Locate a vendor or system integrator | Receive e-mail updates
Share new products that you think are particularly interesting or helpful by contacting James Carroll, Senior Web Editor, Vision Systems Design.
Join our LinkedIn group | Like us on Facebook | Follow us on Twitter
Learn more: search the Vision Systems Design Buyer's Guide for companies, new products, press releases, and videos