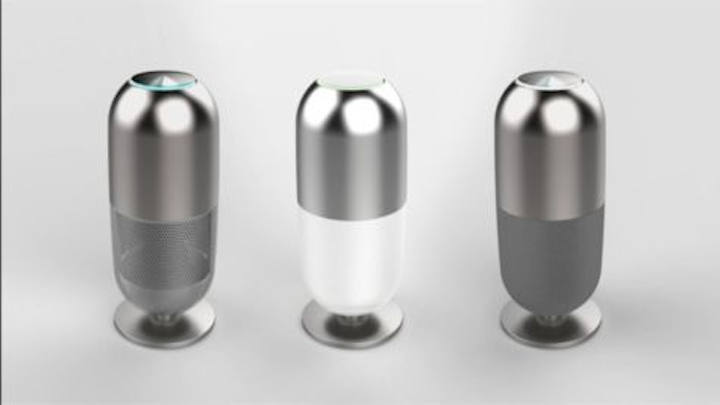 Artificial intelligence startup Crea.vision has developed a prototype computer vision sensor that utilizes artificial intelligence technology for home automation, including security, monitoring, personalization, and convenience.
Crea.vision's sensor is a proprietary technology that employs long-range computer vision, artificial intelligence, and biometrics to automate within the home. The device was designed so that users don't have to manage their smart devices through screen or voice commands, as Crea.vision's sensor combines "real-time user identification and location data, creating a robust deep learning system that enables personalization without smartphones and wearables."
The sensor will effectively learn each user's preferences and eliminate the need for programming of smart tasks and scenes, and it will automatically adjust connected devices' settings. Tasks the sensor can complete include alerting users of an incoming call if a phone is in the other room, manage lights, climate, and entertainment, keep an eye on family members or pets, and keep an eye on those who may need assistance and notifying a homeowner if an unauthorized person is detected in the house. Additionally, the sensor has been designed to run all processing on the device itself without connection to the cloud, so user data is encrypted and accessible to authorized devices only.
"Being enthusiastic early adopters of new technologies, my co-founder and I have experienced the first-hand frustration of dealing with limitless apps controlling too many gizmos. We believe the real intelligence can only be achieved with the shift from transactional user interfaces (screen or voice controlled systems) to fully autonomous ones. Only then, technology will become truly helpful and unobtrusive," said the company's CEO Victor Mudretsov.
Crea.vision's sensor will debut at the Consumer Electronics Show from January 9-12, 2018 in Las Vegas.
Visit the Crea.vision site.
Share your vision-related news by contacting James Carroll, Senior Web Editor, Vision Systems Design

To receive news like this in your inbox, click here.
Join our LinkedIn group | Like us on Facebook | Follow us on Twitter